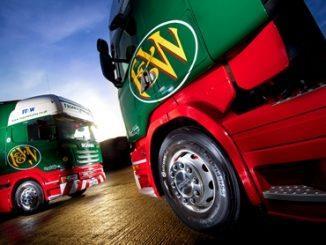 Rising competition for vehicle engineers and technicians is the new recruitment challenge for the haulage industry, Fagan & Whalley (F&W) warned this week.
Speaking to MT following the publication of its latest annual results, Sam Fagan, the family firm's business and strategy director, said a shortage of skilled vehicle engineers and technicians has seen the Padiham, Lancashire-based company take action to up wages and conditions to stave off competition, which he said was largely coming from dealerships.
"This problem has taken over from the driver shortage crisis. There is a shortage of vehicle engineers and technicians and they are starting to move around as companies increase wages – this is true of dealerships in particular, which can afford to pay more because they can easily raise the price of their vehicles," Fagan explained.
The warehousing and distribution company has tackled the problem by hiking wage rates for its engineers and technicians and by ensuring its workshops offer good quality, heated facilities to attract and retain staff, Fagan said.
Turning to the company's recently published annual results, Fagan said that whilst the company had seen a 16% rise in turnover to £30.9m (2021: £26.6m) in the year to 30 April 2022, its pre-tax profit had fallen to £467,664 (2021: £1.5m) in the period.
Fagan said the tumble in pre-tax profit had to be seen in the context of two "exceptional years' performance" during the Covid-19 pandemic lockdown.
Read more
He added that other key factors included the driver shortage crisis and the cost and operational challenge of launching the company's 212,000 sq ft warehouse and distribution centre in Blackburn, which was opened in February 2021.
Almost two year on, Fagan said the investment is now paying off, whilst its driver shortage problem had been solved by upping drivers' wage rates.
"We are now starting to see the profits we want," he said, adding that the company is currently delivering a net profit of 6%.
"That is higher than the industry average, so things are looking a lot brighter. We have seen the back of the driver crisis. We are paying our drivers the right price and getting the right rates from customers and our warehousing side of the business is proving very profitable."
During the period Fagan & Whalley also bought Newport-based RGM Lions Limited and its subsidiary Alan R Jones & Sons.
The acquisition brought with it a fleet of 39 vehicles and 40,000 sq ft of warehousing space, boosting the company's total fleet number to 220 trucks and 380 trailers, with staff numbers rising to 420.
The purchase, which sees RGM Lions and Alan R Jones continue under their respective brands, was driven by Fagan & Whalley's desire to increase its presence in South Wales, where it has a major client.
Looking ahead, Fagan said: "We are planning to further integrate the business into Fagan & Whalley, to find efficiencies and synergies there, and we plan to continue to grow both our warehousing and distribution divisions."
Fagan added that the company is projecting turnover to rise to between £40m-£45m in the current financial year.
He added that the company's broad range of clients gives it the ability to respond quickly to market volatility.
"We work across many industries which gives us the flexibility to turn on and turn off work, as and when we need to, and we are confident that the country will always need road transport and warehousing services," he explained.