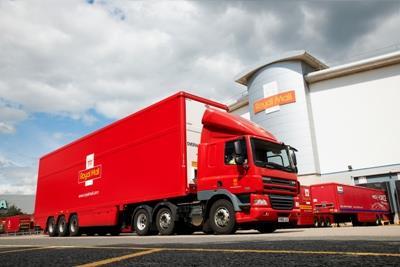 Royal Mail said it had experienced the busiest ever three months in its history at the end of 2020, delivering 496m parcels.
On its busiest day between October and December, it delivered 11.7m parcels, 32% more than its previous busiest day during the first national lockdown.
However, it also said that combined with increased absence rates among staff due to Covid-19, these volumes impacted on service quality.
In response, it has retained around 10,000 of the 33,000 flexible workers it hired for the Christmas peak, taken on 6,000 additional vehicles and kept open four temporary parcel sort centres.
In the nine months to December 2020, group revenue increased by 13.5% to £9.3bn, with parcel volumes up by 31%, although it handled 23% fewer letters.
Keith Williams, Royal Mail non-executive chair, acknowledged that its service during the period "was not always as we would have wished", but he added: "The decline in addressed letter volumes slowed to 14% in Q3, with a decline of 9% in December, compared to around a third earlier in the year, excluding the impact of elections.
"Our colleagues have worked incredibly hard to deliver these exceptional volumes at a time when many units have experienced rising levels of Covid-19 related absences, including necessary self-isolation.
Read more
"I want to thank them for their extraordinary dedication."
Williams said that given the stronger than anticipated trading, it now expected group adjusted operating profit to be well in excess of £500m for FY 2020/21.
London courier Absolutely has launched its fourth location, a zero emission 'Eco Hub' in Holborn.
The company said the depot builds on government initiatives to improve air quality in the Capital and achieve a target of carbon neutrality by 2030.
The site provides 5,000sq ft of space, enabling Absolutely to expand its central London sameday, overnight and fulfilment service offerings to local businesses.
It said the hub would also allow it to provide a temperature controlled and ambient solution using its growing fleet of e-vehicles.
Stuart Godman, Absolutely chief executive, said: "As a business we're in great shape, and despite the recent difficulties of the pandemic, the launch of our Eco Hub is something we've been planning for some time to ensure our business is set up for long-term success; supporting our valued customers, as well as the Capital's zero emissions target."