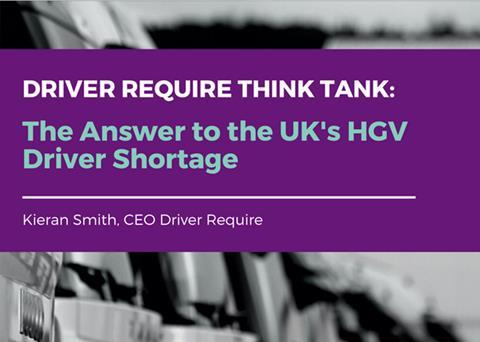 The haulage industry is training sufficient HGV drivers but failing to retain them, a report by the Driver Require Think Tank has concluded.
The Think Tank of leading logistics professionals, brought together by Kieran Smith, chief executive of Driver Require, to examine the causes of the HGV driver shortage, is calling for the industry to take action to "fundamentally and significantly" improve HGV driver retention to reverse the shortfall of drivers.
In its report 'The Answer to the HGV Driver Shortage' the team praises the efforts of Road to Logistics and Think Logistics, which it says are successfully attracting enough candidates to maintain a constant supply to HGV driver training schools.
However the report notes that whilst there has been a steady flow of up to around 30,000 new HGV test passes per year, this has been offset by 10,000 a year retiring and a further 20,000 quitting HGV driving for a living.
It calculates that over the past decade the sector has trained around a fifth of a million HGV drivers under the age of 40, yet the under-40 HGV driver pool has remained steadfast at 67,000.
"This equates to around 150,000 new HGV passes below the age of 40 who have left the UK HGV driver pool to pursue other careers. Assuming an average of £3,000 per HGV test pass, this equates to over half a billion pounds invested by drivers over the past decade to pass their test, only to leave the industry," the report states.
It adds: "It is shocking that all the good work attracting candidates is squandered by a lack of action to retain these drivers in the HGV workforce after they have passed their HGV test."
The report makes three key recommendations - to increase HGV driver training capacity and throughput, attract back UK HGV licence holders who are not currently driving for a career and permit EU HGV drivers to work in the UK.
To this end it suggests the industry should:
• Provide funding for hauliers and HGV Training Schools to nurture newly qualified drivers which could be integrated or associated with the HGV Apprenticeship Programme.
• Bring the RHA and Logistics UK together to showcase best examples of their members' HGV driver engagement and retention initiatives.
• Establish how it can provide drivers with a better work/life balance.
• Pay the cost of CPC training, lost wages and a refresher course for returning HGV licence holders, possibly through a network of approved HGV driver training schools.
• Negotiate with insurers to reduce limitations on the age of HGV drivers.
• Introduce post-HGV test training or assessment designed to give insurers confidence in new drivers, such as an equivalent to the "Pass Plus" in place for car drivers.
• Understand why some HGV licence holders do not take up or give up driving HGV for a living.
• Develop targeted initiatives to bring back certain groups of HGV licence holder into driving for a career.
• Pay new and returning HGV drivers the first few weeks of income so that haulage companies engaging these drivers are subsidised for the time they spend getting them up to standard.
• Pay the cost of CPC training, lost wages and a refresher course for returning HGV licence holders.
• Offer bus (PSV) drivers the ability to cheaply and quickly convert their category D licence into a category C (rigid HGV) licence
The report also asks whether it is feasible to get HGV drivers declared as a "Shortage Occupation" but notes that this may be hampered by the worsening driver shortage on the continent.
The Think Tank concludes: "Underlying all the above is a need to dramatically improve working conditions for our HGV drivers. Significant investment is needed in truckstop facilities and roadside services, as well as the provision of secure, well serviced and affordable overnight parking facilities."
The Driver Require Think Tank was made up of representatives from the Recruitment and Employment Confederation, Logistics UK, the Trailblazer Group for Transport and Logistics, Ocado Group, Clipper Logistics, Aztek Logistics, logistics consultancy Aricia, Dawsongroup Truck and Trailer, Wallace School of Transport, REC Driver Sector Group, Think Logistics and Driver Require.