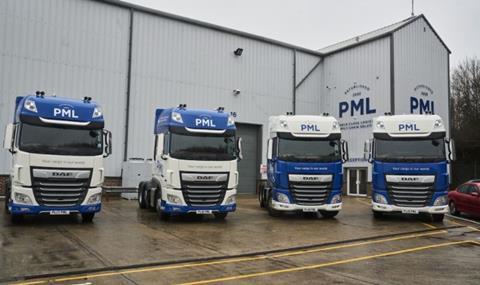 Perishable Movements Limited (PML) has more than quadrupled its fleet of lorries to cater for growing demand in the perishable goods sector.
PML is set to take delivery of four DAF and 10 Iveco trucks this month, with a further 20 new vehicles scheduled for delivery in 2022, representing a total investment of £2.5m.
All of the trucks are destined for PML's new facility at Lympne, Kent which is due to open January 2022.
Tim Houghton at Farnborough Van and Truck Hire (FVTH) said: "PML enjoys a mutually beneficial strategic partnership with FVTH. Consequently, the company's purchase of the new vehicles formed part of a pre-planned, long-term investment plan which made it possible to access the required number of new lorries, despite the ongoing supply chain issues being faced within the industry.
Read more
"DAF fulfilled their delivery obligations, although FVTH has had to supplement PML with addition rental vehicles due to late delivery from other manufacturers."
Commenting on the investment, Nick Finbow, PML sales director said: "Once again, PML is reinvesting in the business to ensure it can continue to offer the highest standard of customer service, combining exemplary industry knowledge and expertise with the very best technology and innovation.
"We remain resolute in our commitment to stay ahead of the curve and to future-proof our business, this investment is just another example of PML's forward thinking – and the company's ability to quickly respond to its customers' needs."