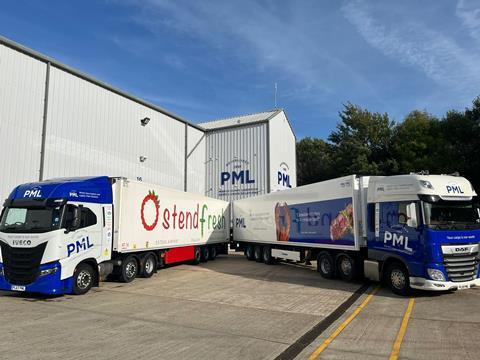 Perishable goods haulier PML is teaming up with European forwarder Tulpin Group in a strategic alliance designed to speed up the transfer of perishable goods from Egypt to the UK.
PML said this week that the partnership signals a new era of efficiency for both producers and retailers by enabling a quicker route to market for imported perishable goods which in turn will extend their shelf life.
Under the partnership PML will take responsibility for the last mile delivery of fruit and vegetable consignments that have been shipped by air from Egypt to Ostend.
The agreement will see Tulpin Group's own customs agency All-Trade and its haulage company Ostendfresh collect the freight from Ostend airport and load into trailers.
The trailers will be driven to the ports of Dunkirk and Calais and the consignment dropped onto a RoRo ferry destined for the Port of Dover.
Tulpin Group will advise PML in advance of any required information to ensure a seamless customs clearance and any potential inspections.
PML will collect the trailers from Dover and take them to its logistics and transport hub at Lympne, Kent for clearance via the company's approved Border Control Post.
Read more
After clearance, PML will deliver to the end customer and then return the trailers to the port for transfer back to Belgium, to enable the process to be repeated. It is anticipated that during the peak season, there could be up to 20 trailer movements per day.
By handling the customs paperwork and assuming responsibility for any onward truck movements in the UK, PML can deliver a faster turnaround of trailers allowing for more freight to be moved.
It also rules out the need for EU driver downtime and eliminates the risk of them being caught up in queues, which has created a growing reluctance for EU drivers to drive to the UK, post-Brexit.
PML and Tulpin Group have already completed trials of the new arrangement, with customers set to benefit from the expedited transfer route from mid-November 2022, in line with the peak seasonal import calendar for fruit and vegetables.
Commenting on the alliance, PML sales director Nick Finbow said: "The working relationship with Tulpin Group is well established.
"Both companies are specialists in the efficient transfer of perishable goods, work with a similar ethos and share the same commitment to upholding the highest standards of customer service.
"Our decision to commit to this arrangement is based on customer demand and the need to seek out an innovative solution to further streamline the transportation of temperature sensitive consignments.
"By combining our experience and expertise, we are able to offer clients the added reassurance of a speedier, seamless transfer of goods, an unbroken cold chain and the clear advantages associated with the delivery of fresh foods that benefit from an extended shelf life."