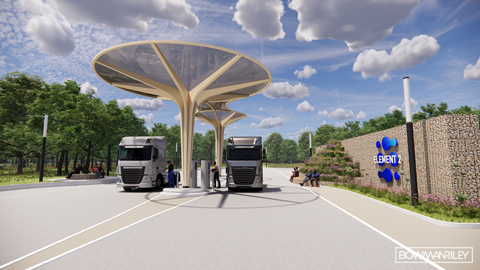 Green hydrogen refuelling station provider Element 2 has revealed the futuristic design of the UK's first two public HGV hydrogen refuelling stations which will be built at Exelby Services' Coneygarth site on the A1(M) near Northallerton and at its Golden Fleece service station on the M6 near Carlisle.
The two new hydrogen refuelling centres are part of a partnership deal between Element 2 and Exelby Services, which owns and operates five Shell service areas and truckstops in the North of England.
The two sites will be the UK's first public service stations to offer hydrogen refuelling services for HGVs and are part of wider plans to integrate hydrogen into Exelby's forecourt operations around the country.
Both sites should be up and running by the end of 2023 and are already providing mobile green hydrogen refuelling units for HGVs.
The design of the hydrogen refuelling centres has been unveiled just days after the government announced a new funding round for green hydrogen projects and the appointment of Jane Toogood as the UK's first Hydrogen Champion.
Toogood's brief is to bring industry and government together to achieve 10GW of hydrogen production capacity by 2030. This includes the delivery of 1GW of electrolytic hydrogen in operation or construction by the end of 2025 – which the government estimates could produce enough hydrogen to fuel up to 45,000 buses per year.
The hydrogen refuelling centres' design comes with a number of sustainable elements. The conical canopy is made of a glulam timber frame, which is a renewable material and carbon store, whilst the roof is an ETFE membrane which is 100% recyclable at end of life.
Read more
The conical shape is designed to prevent hydrogen build up below the canopy and to collect rainwater which will be collected for irrigation use elsewhere on site.
The hydrogen tanks are protected by gabion blast walls filled with local stone and planted with indigenous plants to increase biodiversity.
In addition the partnership is planning, where feasible, to build a pond at each site which will deal with site surface drainage and create a wildlife habitat. Each site will also be fitted with a wind turbine.
Tim Harper, Element 2 chief executive officer, said: "We're building the UK's network of hydrogen refuelling stations in response to growing demand from fleet owners and operators as they accelerate the transition of their HGV fleets to zero emissions, which will be critical in helping the UK meet its zero carbon targets."
Rob Exelby, Exelby Services managing director, added: "Following the ever-increasing global focus on tackling climate change, now is the time to be proactive and embrace low and zero carbon alternatives to diesel drivetrains.
"We're proud to be partnering with Element 2 who have shown a great understanding in how existing fuelling networks operate, and with their expertise we can implement hydrogen refuelling on our existing service areas to offer a one-stop-shop for all road users as we transition to net-zero.