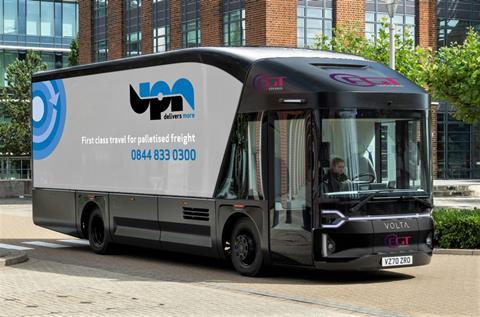 UPN member F&G Transport said it would become the first pallet freight distribution operator to evaluate the all-electric Volta Zero.
The purpose-built 16-tonne truck will also be the first to include the company's new logo, FGT Logistics, which is part of a rebrand this year for the business.
Announcing the trial, Emma Lindsley, F&G Transport MD, said: "We found the Volta Pioneer Programme ideally suited to our needs for our pallet distribution network specifically for safety, distance and weight capacities.
Read more
"We are excited for the trials to start and our hope is that the shared vision of Volta Trucks and FGT Logistics will be highly successful and lead to a partnership that will see us achieve our target of replacing the entire fleet as quickly as possible."
The operator said it had already taken steps to decarbonise its operations, with 80% of its forklift fleet now battery powered and a 100% renewable energy supply.
The Volta Zero is designed for inner-city freight deliveries, reducing the environmental impact of freight deliveries in city centres.