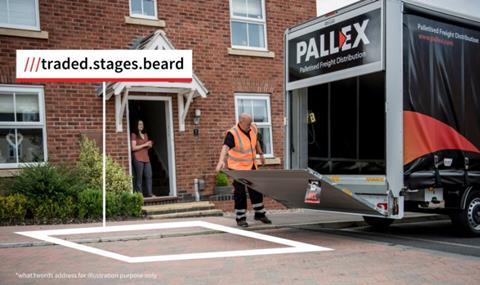 Pall-Ex Group has become the first pallet network to start using the addressing system what3words to improve deliveries to residential properties.
The grid location system identifies precise locations by creating three-metre squares across the globe and giving each one a unique combination of three words.
Pall-Ex said the partnership was brought about by the need to find a solution to the increasingly on-demand economy, which has driven a rise in home deliveries.
It said street addresses often don't guide drivers to the right entrance and in rural areas postcodes can cover large areas.
Read more
Customers and Pall-Ex members can now input their what3words address on the consignment entry screen of the operational system Nexus and the company said it will remove the need for phone calls from lost delivery drivers.
Dave Dunhill, Pall-Ex Group chief technical officer, said: "By integrating what3words into Nexus, we are leading the way in the pallet distribution sector.
"This is the first time this technology has been used in this capacity and I am proud that Pall-Ex Group is at the forefront of this."
Over the last year, what3words has also entered into partnerships with online retailer AO.com and online supermarket Weezy.