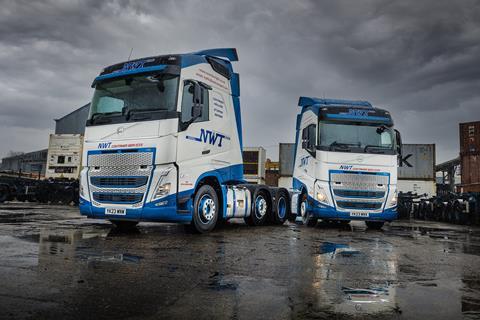 Newell & Wright Group have taken on two new Volvo FH 6x2 tractor units with I-Save after finding other manufacturers could not help the company hit its carbon reduction ambitions
Stephen Newell, operations director at the Sheffield firm, said: "Reducing environmental impact is our top priority and we have now placed clear targets to push for double figures in regard to the fuel consumption of our trucks.
"For older models from other manufacturers, those sorts of numbers are nothing more than a pipe dream. That's not the case with these Volvos though.
"With the combined technology of the trucks and the superb driver training we received, in no time at all both of our new models were comfortably hitting that double figure target."
The tractor units feature a Euro-6 compliant D13TC Step E engine, producing 460hp and a peak torque of 2,600Nm.
Further fuel gains are provided by the I-Shift automated gearbox technology, which monitors speed, weight, road grade and torque demand in order to time each gear shift.
The FHs are expected to cover at least 160,000km annually, working five days a week over the next seven years.