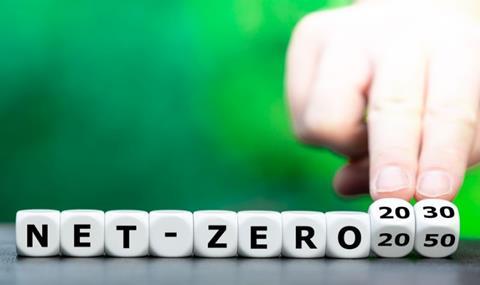 The European Commission's new CO2 targets for heavy goods vehicles have been criticised from all sides of the fence this week.
Under the rules, announced by the European Commission last week, HGVs will have to reduce their emissions by 45% by 2030 and 90% by 2040.
The targets have been criticised by businesses, manufacturers and environmental campaigners alike, who argue they are either not ambitious enough or fail to consider the provision of infrastructure to support the transition.
Lars Stenqvist, chief technology officer at Volvo Group, said the proposed legislation to reduce emissions by 45% by 2030 puts all the onus on the truck and bus manufacturers, and fails to provide a timeline for the provision of infrastructure.
Lundstedt, who is also chairman of the European Automobile Manufacturers' Association (ACEA), said: "We are ready to deliver. However, reaching -45% already by 2030 is highly ambitious.
"It would require equally ambitious action by policy makers to ensure that the other players in the transport and logistics value chain deliver at the same time."
To meet the 45% reduction by 2030, the ACEA calculates European operators would need to buy 400,000 more zero-emission trucks, with at least 100,000 new zero-emission trucks registered every year.
Lundstedt said the continent would need more than 50,000 publicly accessible chargers in seven years, and 35,000 of those would need to be megawatt charging high-speed chargers, along with at least 700 hydrogen filling stations.
ACEA's director general Sigrid de Vries warned: "Given that charging stations that are suited to the specific needs of trucks are almost completely missing today, the challenge ahead is enormous."
Lundestedt said more needed to be done to support fleet operators to make the transition: "If this does not happen rapidly, operators won't buy our vehicles, and as a result we will simply not be able to meet the CO2 targets," he warned. "To succeed with this transition of our industry, we urgently need coherent, joined-up policies."
Conversely environmental group Transport and Environment condemned the new targets as a "craven concession" to truck manufacturers which will slow down the electrification of trucks.
Read more
It called for lawmakers to mandate a 65% cut in 2030, which it said was equivalent to the zero-emission sales goals already announced by Daimler Truck and Volvo.
Fedor Unterlohner, freight manager at the campaign group, said: "By 2035 virtually all new electric lorries will be cheaper to run than diesels while driving as far and carrying as much.
"But without a clear EU deadline, diesel trucks will pollute our lungs and the planet for years longer than necessary."
Jai Kanwar, co-founder and joint MD of sustainable freight tech firm Zeus, criticised the absence of a deadline for HGVs to phase out carbon emissions by 100%. The EC's deadline only mandates a 90% cut by 2040.
He added: "The vast majority of trucks - 99% - still rely on the diesel fuelled combustible engines. More stringent rules would force change, just as it has contributed to the car industry's current electric vehicle boom.
Kanwar is also critical of the EU's decision to exempt company fleets of 100 or fewer HGVs from the new rules, which will allow large firms to continue using them as sub-contractors.
"This means large manufacturers, which account for the majority of volume, now get a climate jail-free card – when it's these companies that need to change the most," he said.
Zeus handles over 660,000 tonnes of cargo annually worth circa £6.5bn for over 60 clients including brewing giant Anheuser-Busch InBev (AB InBev), Primark, Decathlon, Kellogg's, General Mills, and P&G.
Kanwar said: "At Zeus, we work mainly with large manufacturers and have been able to provide solutions which drive down their carbon emissions significantly, and cost effectively.
"What is needed now is bolder zero-emissions targets for lorries with a clear roadmap for reaching net-zero, and to empower states to quickly build electric charging and, later, hydrogen refuelling points for trucks.
"Change will happen once operators are convinced that the necessary infrastructure is in place, that their ';range anxiety' is answered, and it's absolutely clear that it's logistically the most profitable and practical way to go."
For more stories tracking the industry journey to decarbonisation see our new Freight Carbon Zero website.