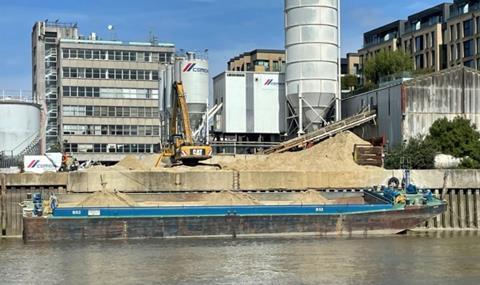 CEMEX is dipping its toe in the water after striking a deal with a river freight provider to shift aggregates by barge on the Thames.
The agreement with Walsh River Freight Partnership will save more than 5,000 HGV movements between CEMEX's wharf at Dagenham to its readymix plant at Fulham.
The contract involves one barge service per day, with each loaded boat carrying 400 tonnes, saving the equivalent of 20 HGVs travelling across the centre of London.
CEMEX said the contract with Walsh is part of preparations to invest in the Fulham site to ensure it can continue to meet demand for construction materials in the capital in the long term.
Read more
Dave Hart, CEMEX supply chain director for UK and France, said: "We are always looking for ways to enhance the sustainability of our logistics operation and the use of river freight supports our drive to be a responsible business by reducing congestion and air emissions in our great capital city."
Joe Gifford, Walsh MD described the deal as a "win-win": "Not just for CEMEX and Walsh, but also for freight transport, construction and the environment," he added.
"Moving essential materials via the River Thames has numerous advantages - reducing lorry miles, less congestion, lower emissions - whilst at the same time helping to meet London's demand for materials for redevelopment and regeneration."