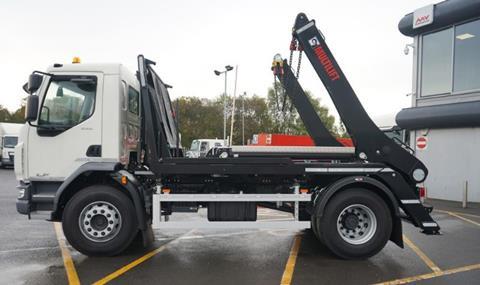 A "huge demand" for skip loaders has prompted MV Commercial to expand its build and refurbishing programme – with remote control operated units proving popular.
It said it had contracted more than 20 skip loaders in May and June alone and is now gearing up for a flurry of orders through the rest of the summer.
David Patrick, MV Commercial sales director, said: "Demand from waste recyclers and scrap metal recycling businesses is high.
"We have stepped up skip loader builds and put a bigger focus on full refurbishments of second-hand units to satisfy our customers' needs."
MV Commercial made the decision to steadily increase its Ready to Go stock of skip trucks two years ago, including remote-control operated options, and it said it was now in a much stronger position to service the uplift in demand for the units.
Patrick said it was "a great business move" and added: "We have the stock to meet the rising demand and many of our customers now demand remote-control operated gear for safety and control reasons.
"It's been a real success story."
Glasgow-based Patersons Waste Management recently took delivery of two new DAF LF 290 skip loaders and MD Ian MacArthur said: "Having the ability to stand back when you are operating the skip loader is a huge safety benefit.
"We wanted to refresh our fleet on a fairly short lead time and MV Commercial was able to meet that need. Its ability to source the trucks with these additional features was also a significant buying feature for me."