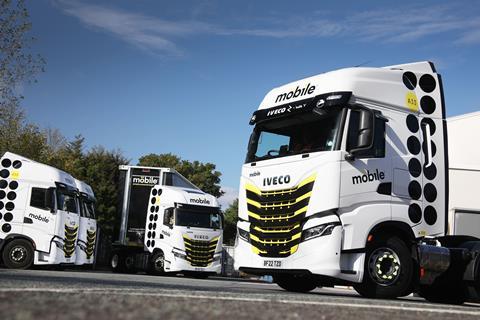 Transport and logistics operator Mobile People Powered Logistics (Mobile PPL) has been certified as a carbon neutral business under the UN's internationally recognised standard ISO 14064.
The Pallet-Track member is laying claim to being the only independent operator in the UK, and the first independent haulier and palletised delivery business in England and Wales, to achieve the certification.
Mobile PPL, which is headquartered in Birmingham and has a distribution and logistics centre in Aylesbury, specialises in palletised freight distribution, haulage, warehousing and fulfilment.
The company has a team of more than 120 people and operates a fleet of 60 owned vehicles and handles over 300,000 shipments per annum through its shareholding in Pallet-Track, and its own haulage and distribution fleet.
Carbon Neutral Britain, a UK offsetting programme, has used ISO 14064 to calculate Mobile PPL's carbon emissions which are then offset by investing in projects to remove CO2 and greenhouse gases from the atmosphere.
Announcing its certification, MPPL said it represents a key milestone towards becoming a zero emissions business by 2037. The company hopes that other operators will follow suit, to help accelerate research and investment into more sustainable technology for the haulage sector, since current technology does not allow any national haulage and distribution business to achieve zero emissions.
Read more
Under the MPPL environment pledge the company is committed to report its emissions data, researching sustainable technologies and creating a sustainable procurement process and leading the sector in being open and transparent about the environmental challenges the industry faces, and encouraging its our suppliers, partners and peers to follow suit.
Matthew Marriott, Mobile PPL managing director, said: "Transparency has always been a key component of the Mobile genetics, as has a commitment to supporting the communities within which we operate through employment opportunities, charitable initiatives and sponsorship of local sports teams.
"The process of becoming carbon neutral has been a challenge, given the margins that we operate at, however we felt it was important to make a stance and let our actions do the talking.
"We wanted to fund this ourselves, not by dressing it up as a 'green tax' passed onto clients, in the hope that our position on this issue will motivate and inspire others to join us."
Ian Jolly, Mobile PPL business director Ian Jolly added: "We have always felt that we can and should have a demonstrable impact on the environment and that this is our moral responsibility as a business that, by its nature, generates a large carbon footprint.
"We're very pleased to have been certified, however the real journey starts now. Our commitment to the Mobile PPL Environment Pledge feels like a pivotal moment for the company as we show how serious we are about taking action and leading the sector in doing so.
"We're an independent, family-run business, without shareholders to appease, and this has allowed us to take a bet on this initiative and go with our gut instinct."