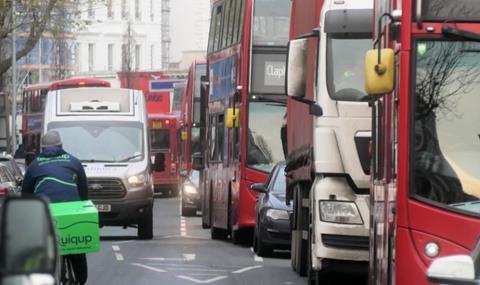 If London's delivery boom is to become sustainable it needs to create space for 10,000 parcel pick up points, build consolidation centres, roll out electric vehicle charging points and prioritise delivery vehicles by introducing a pay-per-mile road user charging scheme for cars.
The recommendations are made in a report by Centre for London, published to coincide with the COP26 Climate Summit which launched this week.
The report notes that with the number of parcels delivered in London expected to double by 2030, the city needs an ambitious roadmap to ensure deliveries and freight journeys become more sustainable and efficient.
It highlights the environmental impact of existing delivery methods, pointing out that most goods and services are moved by diesel and petrol vans which contribute up to a quarter of London's carbon emissions and PM2.5 emissions from transport.
Statistics also show that the deliveries boom during the pandemic has boosted UK diesel van sales, which rose 82% in the year to March 2021, with petrol van sales increasing twofold over the same period.
The report calls on the Mayor of London to work with parcel delivery companies to put 90% of Londoners within 250 metres of a universal parcel pick-up/drop-off point by 2025, the equivalent of installing 10,000 in-store pick-up points or lockers across the city.
It notes that just 17% of parcels are delivered this way in London at present, despite pick-up options generally being cheaper than home deliveries.
"Introducing more of these pick-up points would allow companies to deliver large numbers of parcels at once to fewer locations, reducing vehicle traffic on the roads, and the knock-on-effect on air pollution and congestion," the report states.
It would also mean that Londoners receive their parcels the first time they're delivered, the report adds, noting that an estimated 60% of untimed home deliveries end in failure, and redeliveries increase van traffic on the roads.
If progress on setting up universal pick-up points is too slow, the report also recommends that the Mayor of London is given new powers to incentivise Londoners to use pick-up/drop-off locations. This could include an online sales tax for at-home deliveries which would also encourage delivery companies to set up more pick-up/drop-off locations across the city, the report suggests.
The Mayor of London should also introduce a pay-per-mile road user charging scheme giving priority to delivery and servicing vehicles, according to the report, which argues this would help to cut congestion, save time and money for drivers and businesses, and reduce the number of private car trips.
Whilst the report's authors welcome the recent extension to the Ultra-Low Emission Zone they highlight that many diesel and petrol vans are already compliant with the scheme standards so don't have to pay the fine.
Another key recommendation in the report is that national government fund the installation of charging facilities at commercial properties such as consolidation centres, noting that with the shift to electric vehicles, at least 4,000 rapid charging points will be needed in London by 2025, an 800% increase from the 500 in the city at the end of 2020.
The government should also invest in reactivating London's piers, wharves and rail-road interchanges so that the river and railways are a viable alternative to van and lorry journeys on London's roads, the report argues.
Space should also be made available for logistics hubs where delivery companies can consolidate deliveries and London boroughs should also embrace dynamic kerb management to give delivery vehicles reliable access to space for loading and unloading, and avoid unnecessary additional driving.
Nicolas Bosetti, Centre for London head of data and insight, said: "Delivery drivers and service workers need to be able to get from A to B as quickly and efficiently as possible.
"Londoners may like the convenience of doorstep deliveries but the way we currently move most of our goods comes at a high cost for our health, climate and for the businesses and workers who need to use our roads to get around.
"Many delivery companies already have plans to make their journeys more sustainable, but we need to encourage them to deliver to and from fewer places and support more of them to switch to cleaner vehicles. This means creating space for pick up points, consolidation centres and electric vehicle charging points.
"They won't be able to do this alone. The Mayor of London and London's boroughs need to take action to make freight journeys as green and clean as possible, alongside serious investment from the government too."
Robin Woodbridge, Prologis UK head of capital deployment and leasing, said: "With online sales unlikely to drop back to pre-covid levels, cities like London urgently need to find a solution to the last mile delivery problem and the challenge of balancing surging consumer demand for home deliveries with a need to improve air quality and reduce traffic noise and congestion.
"As the UK's largest developer and owner of logistics parks, we were delighted to support Centre for London to produce this report. This important piece of research shines a light on the complex interdependencies at play when it comes to last mile delivery and proposes key recommendations for businesses, consumers and government to drive positive change."
Neil Herron, Grid Smarter Cities chief executive, said: "We welcome the timing of the report and the key Centre for London research finding that: 'London boroughs and Transport for London should embrace dynamic kerb management, which would give delivery vehicles safer and more reliable access while minimising impacts on other road users.'
"At present, we have a unique opportunity to showcase London to the world with the implementation of a dynamic, bookable kerbside management solution that reduces congestion, improves air quality and enables businesses and communities to receive goods and services more efficiently.
"In 10 years' time we will look back and say: Did we really allow delivery companies to fight for kerbspace on a first come first served basis, rather than booking delivery slots that guarantee access?"