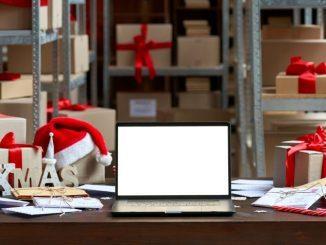 Retailers' last order delivery dates for goods needed in time for Christmas could be overly optimistic, according to ParcelHero, which suggested that safety margins have not been built in.
The warning appeared to be backed up by research by business consultants Coupa Software, which found there would be fewer deals this festive season due to lingering supply chain disruptions.
ParcelHero said that after an 8.2% reduction in online sales during October, it expected virtual baskets to still be full this month.
The delivery firm said despite the fall, online shopping still accounted for 27.3% of people's entire retail spend – and the public should take into account what happened last year in the run-up to the festive season.
David Jinks, ParcelHero head of consumer research, said: "ParcelHero's own research shows that Christmas online sales rose by a stunning 56% last year compared to 2019 and that e-commerce spending will soar in November as present buying starts in earnest.
"In fact, this year, one in three shoppers plan to buy entirely online.
"With all this in mind, we fear many of our leading retailers' final online order delivery dates are too optimistic this year and that they haven't built in a safety margin for delays and stock shortages created by Covid and Brexit."
Jinks added: "Given the current strain on delivery services, we won't be surprised if retailers change to earlier final order dates as Christmas nears."
Coupa Software's survey of 600 supply chain leaders at retailers in the UK, France, Germany and the US, found businesses were anticipating revenue losses of between 5-20% due to supply chain issues.
It also found that nearly three in every four retailers would not be offering as many Black Friday deals as a result and 67% - two-thirds – were encouraging customers to shop early.
Madhav Durbha, Coupa vice president of supply chain strategy, said: "Retailers are striving to meet demand, maximize revenue potential, and find efficiencies as they continue to face unprecedented supply chain disruptions."