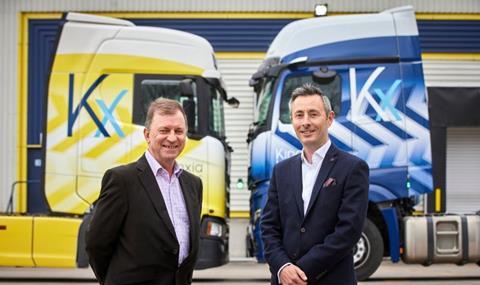 Kinaxia plans to standardise its operating process and complete the rebranding of its 13 transport companies next year, following a refinancing deal back in March which cleared a £42m debt.
Chief executive Simon Hobbs (pictured left with CFO Ben Warrillow) told MT the restructure was a "massive step forward" and would better connect its group of family-run businesses while maintaining their entrepreneurship, agility and customer focus.
A new transport management system will be piloted in the North West from next month and be rolled out to the rest of its network by the middle of 2023.
This will allow the group to share work more efficiently and become less dependent on the pallet networks, Hobbs explained.
Kinaxia has also published full-year accounts for 2021 showing a surge in net profit to £3.2m from £157,000 in 2020.
Revenue was up by 8.3% to £185m while operating profit was up from £11.3m to £11.75m.
Kinaxia has also invested in making 92% of the group's vehicles Euro-6 diesel and standardised its Warehouse Management System (WMS) to operate on JDA Blue Yonder. It estimates that 72% of its warehouse facilities will be operating on this system by Q2 2023.
Since its launch in 2012, Kinaxia has acquired the likes of Bay Freight, William Kirk, NC Cammack & Sons and Mark Thompson Transport.
Read more
"This is a wake-up call for the industry," Hobbs said. "We're growing fast and have restructured the business.
"Mark Thompson will control all our primary movement – e-commerce and trunking etc. That will be our yellow fleet and our local distribution businesses will be the blue fleet. The family name will appear above the windscreen but that's it.
"Dominic Quigley, who built Fresh Freight, now runs distribution in the North for me and Matt Hathaway runs the South. Then I've got a fulfilment and logistics business and Anita Donohoe is the MD of that."
"Plus I now have Professor Neil Ashworth on our main board as a non-exec, which again strengthens our senior team.
"The strategy is to grow primary, grow fulfilment and logistics, standardise distribution and unify the business," Hobbs continued. "We'll retain all the strengths of that local family business mindset but the market will now see a more prominent Kinaxia Logistics brand."
He admitted there had been a recent "slight reduction" in Kinaxia's e-commerce business but the company was "significantly up on last year in all metrics" and on course for a good year despite the economic challenges.
"If volume drops, smaller organisations who have maybe 30 trucks will still send them all out but with less on," he said. "But we park vehicles and spread it out to protect gross margin. I now see an opportunity to sell that spare capacity."
He also hinted at further acquisitions to the group: "It's on the table – we have access to funds," he said. "With the economy as it is we're a bit more cautious but we're keen to broaden the services we offer so we may acquire in the logistics and fulfilment sector."