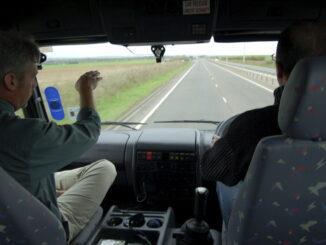 Training provider HGVT said it had created an industry first in the form of an app that enables trainees to practice and book tests all in one place.
The one-stop-shop HGVT app joins the entire training journey together and allows candidates to book their medical, theory and practical tests all on their mobile device.
The app also offers mock theory and hazard perception tests and keeps individuals updated on their progress so they can see when they are ready to sit the real tests.
HGVT said one advantage of the app was that trainee drivers no longer needed to make multiple phone calls or send emails to arrange times for their theory, hazard and practical tests.
It estimated that the app would replace up to 30 separate emails sent to each individual driver during their HGV training course.
The firm said it had invested £150,000 in the app and it was already noticing fewer calls into its customer service team and higher pass rates from those using the software.
Gary Benardout, chief executive of HGVT, said: "Training to be an HGV driver requires a lot of contact with your training provider, taking mock tests, and booking and taking the real tests.
"But it is often an old-fashioned process using emails and phone calls, which can be frustrating for trainees and lead to missed tests and wasted money.
"By putting the entire training journey into one app we've removed this friction for the thousands of individuals that train with us every year.
He added: "Our app is a first for the HGV training industry. Now trainees can practice mock theory and hazard perception tests, track their progress and understand when they are ready to sit the real tests and book them.
"When the UK needs more HGV drivers, we believe it's the right thing to make the process of training as easy as possible to encourage more into the industry."