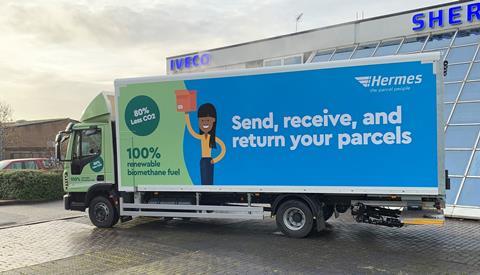 Hermes is trialling Iveco's CNG-fuelled 12-tonne Eurocargo as part of its commitment to operating an environmentally friendly fleet.
The delivery company already runs 90 CNG tractor units and uses electric vans for some of its deliveries in UK cities, including London.
If the trial is successful, Hermes said it could offer an alternative fuels vehicle option for all its journeys.
Read more
With 204hp and maximum torque at 750Nm, the Eurocargo produces 35% less NOx emissions and 95% less particulate matter along with an 80% reduction in CO2 when compared to a traditional diesel vehicle.
David Landy, Hermes head of fleet, said: "We're proud to be one of the most progressive in our sector when it comes to alternative fuels and this latest trial of a 12 tonne CNG vehicle will open up further opportunities to make our deliveries even greener – particularly the middle mile, which we know is an exciting prospect for our clients."
Last month, Hermes said it had started a pilot of 'pedestrian couriers' in the capital, who unload parcels from Ford vans onto trollies and deliver to nearby addresses.