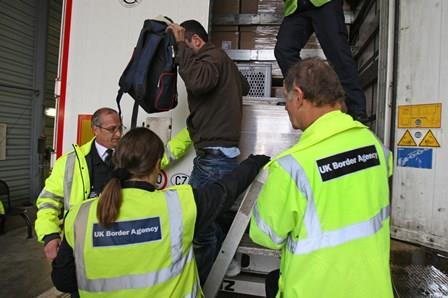 Hauliers that have been fined after stowaways were discovered in their trucks could be repaid after the court of appeal found the guidance relied on by Border Force was being used prescriptively.
Lord Justice Stuart-Smith also described parts of the prevention code, created by the government and used by hauliers to prevent clandestine entry, as "badly and confusingly drafted" and that questions were now raised about how the civil penalties scheme has been operated.
It means companies could demand to be repaid the money they have paid out in fines to the Home Office in cases going back to at least 2008.
The court heard appeals from two Polish haulage firms, which had been fined by Border Force after immigrants were found in their HGVs.
It ruled that the prevention code was being imposed prescriptively and not as guidance – a judgment that has a significant impact on hundreds of other logistics operators caught up in the civil penalties scheme.
Simon Clarke, a barrister and partner at Smith Bowyer Clarke, and who defended the companies, told motortransport.co.uk: "The landscape for Border Force imposing penalties has significantly changed.
"The code of practice legislation says that when imposing penalties, the secretary of state must take into account the code of practice – so it's advisory.
Read more
"The appeals were that Border Force and the secretary of state were in fact imposing it as though it was law.
"Also, parts of the code of practice are incoherent and highly ambiguous."
One example raised in the judgment included hauliers being expected to check inside their trailers immediately before boarding a ferry, despite the security risks of doing that inside French ports with immigrants trying to gain entry to vehicles.
The Home Office claimed the judgment only applied to the two Polish haulage companies: "We have carefully considered this judgment but note that it is limited to this specific case," said a Home Office spokesman.
However, this was sharply refuted by Clarke: "As usual from the Home Office, it's mealy-mouthed nonsense," he said.
"First of all, this was not a single case, it was six appeals combined in one hearing.
"Secondly, the first sentence of the Lord Justice's decision said the case raises questions about the operation of the statutory scheme."
• Clarke also described the judgment as "bitter sweet" because the government is bringing forward provisions in the Nationality & Borders Bill, which overhauls the current civil penalties scheme. It makes the code of practice law and also enables hauliers to be fined if their security systems are inadequate, regardless of whether stowaways gained entry to their vehicles. Clarke said: "People will feel very aggrieved they have received penalties for not having clandestines in their trucks."