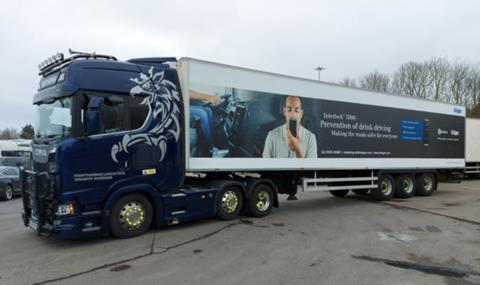 North East England haulier Hawthorns Logistics is encouraging other operators to follow its lead and fit alcohol interlock devices to HGVs in an effort to curb concerns over drink driving.
The Washington-based firm installed the interlock devices to its fleet of 28 trucks and is now working with medical tech company Draeger Safety UK to show how fleet operators can be proactive in stopping drink driving.
The move follows a recent report from road safety charity PACTS, which concluded that breath-testing kits connected to ignition systems would be an effective way to reduce drink driving.
The problem is responsible for 13% of all road traffic deaths and concerns are growing over the number of offences by persistent offenders – one in six driving offences is committed by someone previously convicted.
Draeger's interlock devices require a driver to blow into a breath-testing instrument and if the device detects alcohol over the legal limit, the vehicle will not start.
Dave Kilsby, Hawthorns director, said: "We believe that having the interlock devices in place safeguards against our drivers unwittingly getting behind the wheel while under the influence of alcohol.
"Many people don't realise the effects of alcohol the morning after a night out.
"Furthermore, our drivers often transport goods across the border in Scotland, so we have set the device to 50mg of alcohol rather than 80mg, which is the drink drive limit when driving in England."
He added: "The interlock is straightforward to install and is convenient to use so, from the driver's perspective, the test is very quick.
"It doesn't hold them up but gives them and us the reassurance that they are fit to drive which, in their case, means taking responsibility for an HGV vehicle and for our customers' products."
Kilsby said that since it installed the devices, one driver at the business had been replaced.
Draeger marketing manager Graham Hurst said: "The ongoing concern over repeat offenders and the growing recognition of the problem among the general public, indicates that now is the time to try a different approach and the solutions offered by interlock devices, used within a rehabilitation programme, provides an approach to tackle the problem at its roots."