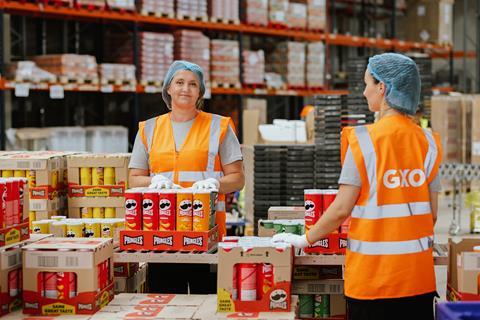 Contract logistics giant GXO has extended and broadened its pan-European logistics and warehousing partnership with cereal manufacturer Kellogg.
The agreement sees GXO pledge to deliver continuous improvement initiatives at operations that span five countries and eight sites, including a new facility in Belgium.
In the UK GXO currently manages three warehouses for Kellogg and employs approximately 350 staff, and has worked with the cereal and snack manufacturer since 2008.
Initiatives implemented under the renewed partnership will include technology investments, process improvements and knowledge-sharing, all aimed at increasing productivity and speed while reducing costs.
As part of the new agreement, GXO has rolled out its Reflex web WMS at its sites in the UK and Spain and plans to do the same at the new site in Belgium.
In addition, GXO is working with Kellogg to develop digital reporting metrics to further improve operational and service performance visibility and enable greater data-driven decision-making.
GXO will also operate and optimize Kellogg operations in Belgium in a brand new 650,000-square-foot semi-automated facility in Mechelen, which opens next month.
GXO's solutions at this facility will include warehousing and a transport shuttle service between the Kellogg factory and the new site, as well as an option for further value-add co-packing services.
Read more
In Spain, GXO currently manages approximately 500,000 sq ft of dedicated space in two warehouses with over 100 staff for Kellogg, enabling supply to the Iberian Peninsula, the South of France and the US.
In Germany, GXO and Kellogg recently extended their long-standing partnership at the site in Bremen, Germany, which employs 71 team members and serves the entire German market.
Meanwhile in Kutno, Poland, the agreement sees GXO manage a 290,000-square-foot warehouse employing about 120 people, which provides storage, pick, pack and value add co-packing services.
GXO has recently deployed new automation and technologies at the Kutno site, including a pallet shuttle racking system, to improve storage density and efficiency, shortening the palleting process by 90% - from 24 minutes to 1.5 minutes. It has also cut plastic consumption by 85% and improved ergonomics and safety for team members.
Richard Cawston, GXO president for Europe, said: "We're delighted to extend and expand our partnership with Kellogg and we look forward to continuing to add value to Kellogg's logistics operations.
"We will continue to make strategic investments in automation and apply our industry-leading experience and expertise to help Kellogg optimize its production support, warehousing, delivery execution and co-packing activities."
Bruno Esmeraldo, Kellog European logistics director, added: "Working with a data-driven company like GXO helps us improve operational and service performance visibility and enable greater proactive decision-making.
"Our shared commitment to operational excellence, together with right-fit technology solutions supporting our ESG goals, is a solid foundation for a future-proof business."