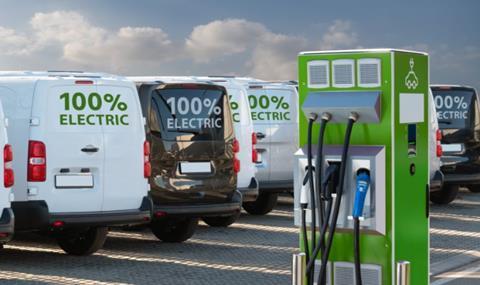 The government has unveiled plans to ramp up the number of EV chargepoints in the UK to 300,000 by 2030 – almost five times the number of fuel pumps available today.
Freight groups welcomed the announcement and said it would help make transitioning to zero emission fleets a reality for logistics businesses.
Backed by £1.6bn, the department for transport claimed its plan would make charging vehicles easier and cheaper than refuelling with petrol or diesel.
Transport secretary Grant Shapps said decarbonising transport was at the heart of the government's agenda: "That's why we're ensuring the country is EV-fit for future generations by the end of this decade, revolutionising our charging network and putting the consumer first," he said.
Logistics UK said the government's plan, which aims to ensure commercial vehicles have access to public chargepoints, will also mandate that they have high standards of reliability and will address current barriers, including network capacity, costs and access to a broad recharging network across the UK road network.
Denise Beedell, Logistics UK public policy manager, said: "For some time now, Logistics UK's members have called for more equitable ways of funding the necessary expansion of the UK's electricity capacity to support the decarbonisation of the UK's commercial vehicle fleets.
"We are very pleased to see the strategy address this significant barrier to improve the infrastructure required for the electrification of commercial vehicle fleets as logistics businesses work to reach net zero as soon as possible.
"We look forward to seeing the details of how the electricity network will be transformed to ensure cost effective and timely connections this spring, and the Ofgem-government EV smart charging action plan this summer."
However, technical engineering solutions provider Spie UK cautioned that substantially more focus was required to meet the charging infrastructure challenge.
Keith Atkins, Spie head of fleet, who oversees its alternative fuel vehicles strategy of 12,500 light CVs and HGVs, as well as specialist vehicles and plant, said: "Without the proper charging infrastructure in place, we will continue to see businesses express uncertainty about the viability of electric vehicles and postpone transitioning to them.
"This in turn will simply keep higher emission vehicles on the road longer.
"The extra funding is good, but mandatory annual infrastructure targets for local authorities together with a change in planning requirements is what should really help supercharge the rollout of new charging points."
Van leasing firm Novuna also warned that the scale of the challenge should not be underestimated.
Jon Lawes, Novuna Vehicle Solutions MD, said: "Recent SMMT research showed that in the past year the ratio of public charge points to EVs dropped by half, and this gap is only going to widen if EV registrations continue at their current rates.
"With up to 11 million electric vehicles expected on UK roads in 2030, a shortfall will remain even if all 300,000 charge points are installed."