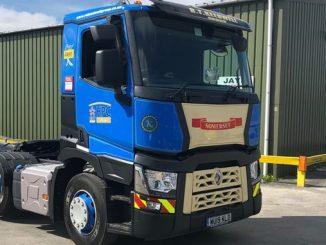 RT Keedwell is reaping the rewards of a "fundamental" review of its business, which has seen a leap in turnover and pre-tax profit almost double.
The company, which operates around 100 trucks and 150 trailers and employs around 130 staff, specialises in transporting construction materials, food and drink, paper, timber, packaging and FMCG.
Reporting its latest financial results for the year to 31 October 2022, the family firm revealed that its turnover has risen 15% to £25.1m (2021: £21.9m), whilst its pre-tax profit almost doubled by 90% to £1.9m (2021: £1m).
The majority of the group's turnover in the period was provided by the haulage division, which delivered £23.9m compared to £20.9m the year before.
Warehousing operations brought in turnover of £480,366 (2021: £412,313) whilst the hire business delivered revenues of £668,617 (2021: £653,224).
In its business review to the results the company said its 2019 performance, along with the COVID-19 pandemic, were a catalyst for a "fundamental" review of the business aimed at protecting its long-term future. The review saw the group fleet cut by 27%.
Read more
The report added that the review of the business began to bear fruit by 2021 with turnover exceeding pre-pandemic levels, rising to £21.9m. By 2022 turnover jumped to £25.1m. However, the report added that the increase was in part driven by the transfer of trade from another group company.
Looking back over the financial year, the report said the group had struggled to contain employee and fuel costs.
It stated: "Control of these costs has been challenging this year, due to increased wage demands from drivers and general overhead increases."
It added that during the year it has continued to improve vehicle utilisation, change inefficient work patterns and improve customer rates and noted that trading has continued to remain strong in 2023 along with its balance sheet position.
Turning to future developments, the board said it expects the industry to remain competitive and the cost of fuel to continue to be "significant".
In response to the current economic conditions, the review said RT Keedwell is focusing on areas where the business is more efficient and moving into more profitable sectors as well as engaging with a number of "significant local developments", adding that the board remains confident that these will provide both revenue and margin growth.
A request for comment from RT Keedwell on its latest financial results has yet to receive a response.