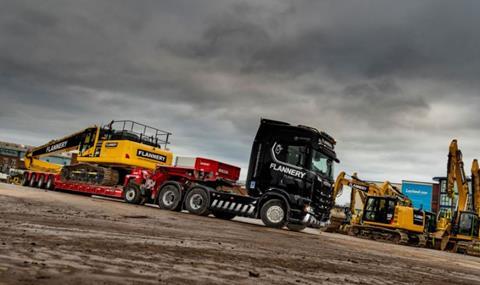 Flannery Plant Hire has appointed Blackburn-based Vision Techniques to install an automatic braking system to the business' 50-strong fleet of HGV low loaders.
Established in 1972, Flannery Plant Hire operates across the UK and provides over 3,500 units of plant to its customers via its fleet of delivery vehicles. The company partnered with Vision Techniques to boost fleet safety by installing the company's BrakeSafe system.
Designed and manufactured by Vision Techniques, the technology provides a failsafe system that prevents rollaway incidents by automatically applying the parking brake if the driver leaves the cab without doing so.
John Moran, Flannery Plant Hire director, said: "Unfortunately, 2022 has already seen approximately six rollaway incidents, one of which has led to an HGV driver's death. Our business operates more than 54,000 deliveries of plant hire equipment, so it's paramount we're operating safely.
"We partnered with Vision Techniques because they've been the vanguard for vehicle safety products, and we knew we could rely on them to help us with our commitment to operating a very safe fleet. The Brakesafe system is an important innovation that keeps our drivers and members of the public safe."