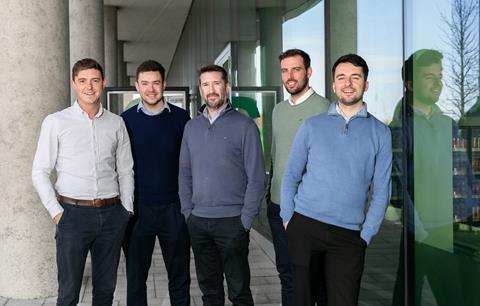 Europa Worldwide Group has opened its first sales branch in Ireland as it broadens its international footprint.
This latest launch is part of Europa Worldwide Group's £3m-plus strategy to expand Europa Road's road freight sales network.
The new branch is located at the Spaces offices at Dublin Airport, close to main transport road into and out of Dublin.
The site has opened with three sales staff, led by branch manager Elliott Watts, (pictured far right, beside his new team members Ciaran Rowe, Alex Murray and Colm Harmon, and regional manager Jamie Hedgecox.)
Watts, who led the launch of Europa's new Cambridge branch in 2022, said: "The opening of the new Dublin office marks a tremendously exciting milestone for Europa Road as a business, and I am thrilled to be heading up this new team.
"Having a local presence means that we will be able to support and advise Dublin's businesses with import and export services, specifically on our pan European daily routes."
This is the first time Europa has expanded into Ireland. The company said it chose the location after researching into areas with growth potential and businesses that export to Europe. Europa Road's closest site is in Belfast.
Read more
Pointing to data from the Central Statistics Office which shows that Irish goods exports increased by 27% in the first 11 months of 2022, compared with the same period the previous year, the company added: "Ireland has become an attractive location for logistics investment due to its increased transaction volumes and enhanced liquidity.
"The country also offers increased connectivity within Europe, the UK and the US which is one of many considerations which drives foreign investment in Dublin." 
Adrian Redmile, branch network and sales director said: "We're very pleased to appoint Elliott as our branch manager and welcome the rest of the Dublin team to the Europa network.
"The opening of our Dublin offices also helps to enhance our sales network, which is an important part of our strategy to fill the gaps and thus increase our footprint across Northern and Southern Ireland."