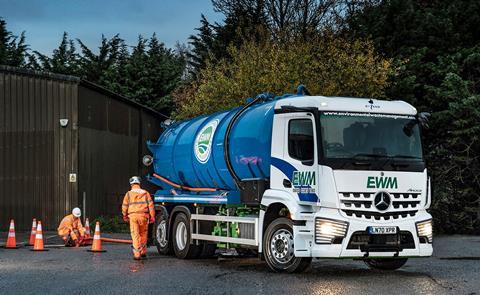 Environmental Waste Management has taken delivery of five new Mercedes-Benz Arocs 2633 tankers.
The Essex-based liquid waste specialist has purchased the 26-tonne 6x4 vehicles from S&B Commercials.
The move comes in the wake of new Direct Vision regulations governing the operation of trucks in Greater London which begin on 1 March.
The trucks benefit from MirrorCam technology and ClassicSpace M-cabs and have been awarded three-star Direct Vision ratings.
TfL's Direct Vision Standard recognises the contribution that MirrorCam makes to safety by providing much improved rear visibility and eliminating the forward-facing blind spots caused by conventional door mirrors.
Seen through the driver's eyes, the bottom edge of the window in a Mercedes-Benz Arocs or Actros is lower than in other makes of truck. At 2.3m the cabs of Environmental Waste Management's six-wheelers are in the narrower of the two widths available, while their 320mm engine tunnels mean the floors are relatively low. All of these factors contribute to safety by enabling drivers to see more of what is going on around them.
Environmental Waste Management operates from a head office in Epping and has reported a highly successful first year in business. It specialises in the disposal of liquid waste, primarily from sewers and septic tanks, but also from industrial facilities, and including hazardous substances such as oils.
The new Arocs have 10.7-litre in-line six-cylinder engines that produce 240 kW (326 hp) and are paired with smooth and fuel-efficient 12-speed Mercedes PowerShift 3 automated manual transmissions.
Their comprehensive safety specifications also include Active Brake Assist 5 emergency braking technology, which employs a combination of radar and cameras, and provides dramatically improved responses at speeds of up to 50 kph. The system can apply full braking – as opposed to the 50% achieved previously – if it detects a pedestrian crossing the truck's path.
The Arocs are fitted with split tank bodies by VJ Engineering of Rugby that can carry 13,000 litres of waste liquid and 3,500 litres of clean water. Each section has its own pump, which is operated via the truck engine's PTO (power take-off).
Environmental Waste Management has been working primarily in London, the South-East and Midlands but is targeting national coverage.
MD Steve Strudwick said: "Our first year of trading could scarcely have gone any better, and the fact that we're very adaptable means we can take advantage of different revenue streams.
"In the early months of 2020 we were heavily engaged in flood relief work, protecting vulnerable properties by removing waste-water from areas in which the sewage network was struggling to cope.
"Then, as the pandemic took hold, we were called upon to meet the surge in demand for non-potable water removal services from construction sites and other locations, arising directly from the increase in hand washing by workers. We also deliver non-potable water, as well as removing it."