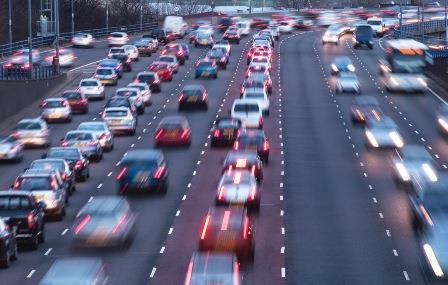 England's most congested major road is the A2270 in Eastbourne, government figures showed. The road, which stretches from the East Sussex town to the A27 near Polegate, racks up 196.5 seconds in average delays for every mile driven. Its junction with the A27 has been plagued with roadworks for several months.
Other major roads found to reduce traffic flows to a standstill included the A335 in Southampton, with 127.8 seconds of delays and the A57 from Liverpool to Lincoln, with over 90 seconds per vehicle per mile (SPVPM).
The figures, based on the strategic road network, also showed that users of the M6 toll road, the A3 from Portsmouth to London and the A4 from Bristol to London were all comparatively free-flowing, with delays of less than three SPVPM.
Only 12 of the 2,000 more minor A roads monitored had fewer than 10 SPVPM waits.
Greg Wilson, founder of insurance comparison website Quotezone, said: "With fuel prices going up fast, standing still will hit motorists and many businesses in the pocket.
"But the data shows that delays can vary between small hold-ups to ones that are bound to raise the ire of motorists, so finding the best route and time to travel can make a difference."