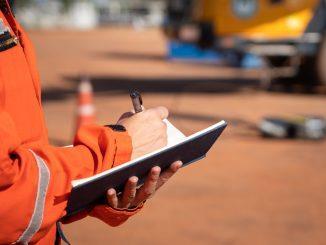 A coroner has asked the DVSA and a Nottinghamshire haulage firm to respond to concerns about securing loads on tipper lorries, after a motorist died when a lump of concrete smashed through his windscreen.
Paul Wainwright Construction Services and the enforcement agency have until 8 July to respond to assistant coroner Gordon Clow's report, following the death of Steven Oscroft.
Clow said he was concerned at the standard industry practice of 'mounding' loads on HGVs and the way in which they are supposedly secured with sheeting systems.
Oscroft was driving his car along Netherfield Lane, Meden Vale in July 2020 when a piece of concrete fell off one of Wainwright's lorries and onto his car, killing him instantly.
Nottinghamshire police said a 64-year-old man was arrested shortly afterwards on suspicion of dangerous driving, but he was released without charge after a serious collision investigation concluded there were no offences against the driver or the haulage company.
However, in a Report to Prevent Future Deaths, Clow said action needed to be taken to prevent similar incidents and that the DVSA "have the power to take such action".
Read more
The coroner said that from the evidence he had heard, sheeting systems on mounded loads cause the sheet to be drawn up: "This results in part of the load being uncovered and liable to fall or be blown from the vehicle," he said.
"Such standard sheeting systems are not designed to be used on loads mounded above the level of the sides and cannot prevent 'blow off' from the areas of the load uncovered by the mesh.
"Evidence was adduced of a number of loads on Wainwright's lorries, which, because of the above practice, appeared to not be fully secure."
A spokesman for the DVSA said it was committed to helping ensure lessons were learnt from Oscroft's tragic death: "Plain English load security guidance already exists and the DVSA and the Health and Safety Executive plan to revisit it later in 2021," the spokesman said.
"We would also encourage anyone who sees a lorry with a dangerous load to help us keep the roads safe, report it to us and we will investigate."
MT was unable to reach Paul Wainwright Construction Services for a comment.