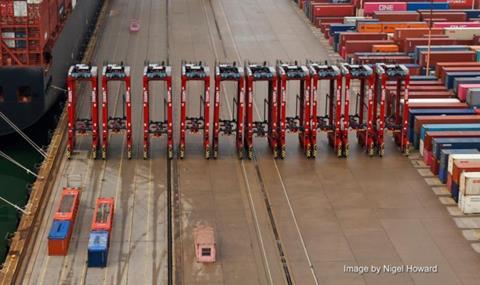 DP World has invested in 11 straddle carriers at Southampton, as part of its £40m investment in the container terminal over the past 12 months.
The vehicles, which lift containers moved by the quay cranes and then transfer them to road and rail transport, use up to 20% less fuel than the diesel-electric powered machines they are replacing.
Ernst Schulze, DP World UK chief executive, said: "I am delighted to announce the arrival of a new class of eleven hybrid straddle carriers at Southampton, which illustrates once again DP World's commitment to improving the nation's trading infrastructure and playing our part in helping the UK government meet its target of delivering the net zero 2050 policy."
Schulze said the company is also preparing to start work on a new £300m fourth berth at its London Gateway logistics hub.
Read more
Southampton and London Gateway have both been awarded Freeport status as part of Solent Freeport and Thames Freeport respectively.
"As these major investments show, we believe in the UK market and have the ambition and the resources to boost growth, support businesses, create jobs and improve living standards," he added.
Over the past year, DP World, has invested in the dredging and widening of berths, spent £1.5m extending a quay crane rail by 120 metres to ensure the world's biggest cranes can service the entire terminal and created a new £3m empty park which opened in September.
The company said the "ultimate aim" of the investment is to take Southampton up to the next level as a smart logistics hub.