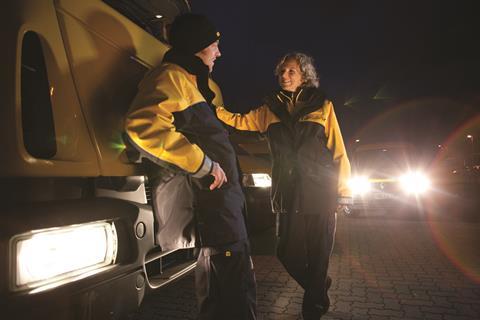 The Quiet Cities global summit, to be held in London on 25-26 November, will bring together a wide range of products specifically designed to reduce noise during deliveries in urban areas.
One of the biggest issues when making out of hours retail deliveries can be the rattle of roll cages as they are pushed to and from the vehicle.
Leading roll cage manufacturer K Hartwall plans to show a range of products at the Quiet Cities summit designed to minimise noise disruption when transporting goods to retail outlets, pubs, and restaurants, including its Piek-certified roll cages – the Classic Silent A-frame and the European standard Classic Silent Compactainer.These have been designed for 24/7 deliveries with plastic floors, quiet wheels and other noise reduction features that make them some of the quietest cages on the market at 60dB (A).
It will also be demonstrating its new 'lean' retail solution with Piek-certified Euro dollies, developed to eliminate waste and manual handling of dollies. These plastic quarter-pallet dollies can support plastic crates of different sizes and used to store, transport and display bulk products.﷯Fitted with rubber wheels, they achieve a noise level of 55dB (A).
K Hartwall worked closely with DHL Supply Chain during the London Olympics and using its A-frame Classic Silent roll container on JD Wetherspoon deliveries, noise levels were reduced by approximately 15 dB (A).
John Anderson, national transport manager at JD Wetherspoon, said: "The new cages were used for night-time deliveries to Wetherspoon pubs during the Olympic Games between the hours of midnight and 6am. The lower noise levels were well received by staff and appreciated by local residents to such an extent that we didn't receive a single complaint during the entire period of the Games."
Noisy refrigeration
Noisy fridge units can be another major source of complaints from residents, as they are often at upper floor level where they cause maximum nuisance for sleeping residents.
Carrier Transicold will be using the Quiet Cities event to highlight its City range of low-noise refrigeration units for rigid trucks and trailers. The City range includes two trailer fridges – the Vector 1850 City (Multi-Temp) unit and the Vector 1550 City (Mono-temp) unit – plus the Supra City for rigid trucks (mono and multi-temp options are both available). All of these are Piek compliant, meaning they can operate at or below 60dB (A). Both the Vector 1850 City and the Vector 1550 City units have won John Connell Awards from the Noise Abatement Society.
The City range also includes a Supra City Z, which is an engine-less unit for rigid trucks. It takes its power from a hydraulic pump directly connected to the truck engine's power take-off. Whilst not Piek-compliant, it is significantly quieter than a standard fridge unit.
Quieter safety alerts
Although a clear aid to health and safety, reversing alarms have also been a source of complaints. Reversing alarm pioneer Brigade has developed a 'white noise' alarm, however, that warns those close to a reversing vehicle without disturbing sleeping neighbours. It is now phasing out the traditional 'beeping' alarm in favour of these less intrusive alternatives.
It will be showcasing its bbs-tek white sound reversing alarm, which is the only reversing alarm approved by the Noise Abatement Society. Certain models are also Piek-approved.
Now widely fitted across the full range of vehicles from large plant to airport baggage buggies, the bbs-tek is fast becoming the reversing alarm of choice, it says. Unlike beepers, which can be heard in an area at least 30 times wider than the hazard zone, a white sound alarm is only heard in the hazardous area behind the vehicle. White sound is also more likely to be heard by someone wearing ear defenders yet is less likely to cause hearing damage.
The SMART bbs is able to adjust its sound levels to compensate for ambient noise so it is always just 5dB (A) louder – loud enough to be an effective warning but not loud enough to be a nuisance.
Brigade will also be featuring its latest Backeye 360 camera monitor system. This eliminates blind spots around a vehicle by linking four cameras together to give the driver a bird's-eye-view of their vehicle and the surrounding area.
Presenting all-round visibility in one image means the driver can focus on a single display rather than having to constantly scan windows, mirrors and rear-view camera monitors to get a complete picture of what is around the vehicle.
The intelligent control unit blends the images from the four wide-angle cameras, automatically compensating for distortion caused by the 187-degree lenses and any overlap in the view from the cameras.
The camera system is compatible with Brigade digital recorders so footage can be used to defend false crash-for-cash claims and to detect vandalism or theft.
The Backeye 360 is being trialled by Marks & Spencer, and Sainsbury's is using it on one truck in London.
Tyre noise is another significant factor in night-time deliveries, when the absence of other traffic makes every sound produced by a truck sound relatively louder to local residents.
Michelin will be exhibiting its new X Multi D drive axle tyre, which is available in 17.5in and 19.5in sizes for trucks under 16 tonnes. It has been specifically designed for use in urban and suburban roles in all weather conditions and delivers a notable 5dB (A) noise reduction.That might not sound a lot but is in fact 50% quieter than the previous generation, and according to Michelin represents "a major technological breakthrough, particularly given the number of vehicles in this sector which are used extensively in urban environments."
The range will be extended before November to include the X Multi Z, a multi-position fitment suitable for steer axles.
Fleets of the future
Enabling the logistics sector to schedule flexibly acceptable delivery times within urban areas is also key to successful out of hours deliveries, and here Route Monkey is well-placed to help.
Route Monkey says quiet deliveries are about the 'fleets of the future'. These will use routeing and scheduling technology to optimise how and when the job gets done and will also use electric vehicles (EVs) to allows them to achieve their duty cycles almost silently, it suggests.
At Quiet Cities, Route Monkey will demonstrate how technology and multimodal transport solutions can work well to achieve quieter deliveries. It will be showcasing a web-based scheduling platform which is UK government-backed and can be accessed by fleets across both public and private sectors. This platform solves a real problem as it is a pay-as-you-go model that instantly delivers a return on investment. It's accessible and easy to use and will host all the fleet's data in one place, saving on administration and time.
At present, about 95% of fleets do not have scheduling technology as it can be expensive and often difficult to use. Similarly, a large percentage of fleets would not consider that an electric or other ultra-low-carbon vehicle could replace a conventional delivery truck because of the significant barriers to their adoption. They are considered to be too expensive and the range of electric vehicles remains limited.
Route Monkey's online scheduling platform can be used by truck operators to create the fleets of the future, however, in modelling and scheduling and writing the business case for the procurement of electric or other ultra-low-carbon vehicles.
"Our aim is simply to convert those expensive miles to electric miles," the company says.