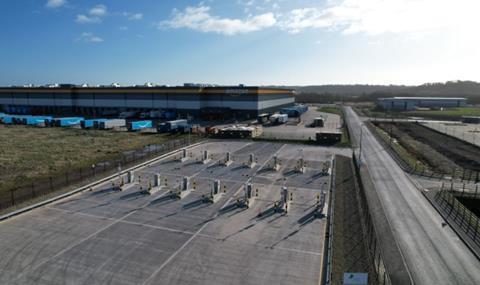 Avonmouth has become the venue for the world's largest biomethane refuelling station, capable of refuelling up to 80 HGVs an hour.
CNG Fuels said the location, near to the M4/M5 junction just outside Bristol was in a key location for many of its customers and it will support brands such as Lidl, Royal Mail, Amazon and Warburtons.
When fully utilised, CNG Fuels said it would cut 70,000 tonnes of greenhouse gas emissions each year by taking diesel HGVs off the road.
The site is part of the fuel company's network of eight renewable biomethane refuelling stations and it is aiming to build 12 additional stations each year to cater for the growing demand.
Read more
John Dinham, owner of John Dinham Transport, said running its fleet on 100% renewable fuel was a win-win for the business and for its customers: "It has been a huge selling point for us, especially amongst our bigger corporate customers who have pledged to reduce their carbon footprint.
"We are committed to significantly reducing emissions from our fleets and renewable biomethane is the perfect solution to enable us to do so now.
"We have more biomethane trucks on order and the new site in Avonmouth puts the world's largest biomethane refuelling station on our doorstep, making it easier than ever to refuel our fleet with Bio-CNG."
CNG Fuels said companies were under increasing pressure to cut emissions and it said renewable biomethane was the only commercially viable solution on the market today: "We are continuing to see high increases in demand and with the recent news of the 2040 ban on new diesel HGV's, we expect the pace of demand to continue," said Philip Field, CNG Fuels chief executive.