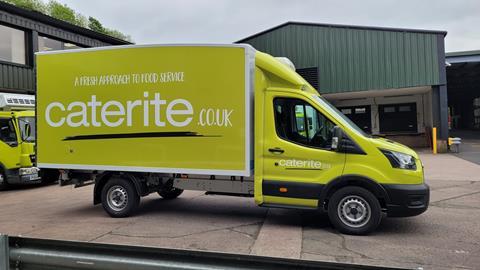 Lake District food and drink supplier Caterite has added nine Ford Transit Slipstream dual-temperature vehicles to its 50-strong fleet.
The vehicles, provided by Lancashire-based Solomon Commercials, are fitted with the Thermoking V300 and also use the Blueseal air curtains to minimise temperature loss.
Caterite employs 170 people and operates from its three locations in Cumbria, making on average 3,000 deliveries per week to its 2,000 customers.
Lorcan Byrne, MD of Caterite, said: "Our mission is quite simple. Caterite aims to supply the finest ingredients and produce to chefs by working directly with suppliers, growers and producers throughout the UK and from around the world.
"Our transport systems are a critical component in achieving our mission, and that's why we've partnered with Solomon on the latest additions to our fleet."
Matthew Jones, sales manager at Solomon Commercials, added: "Caterite built an unrivalled reputation in the hospitality industry for providing the best products. We were proud to partner with them, providing a fleet of Slipstream vehicles that will help them achieve their vision."