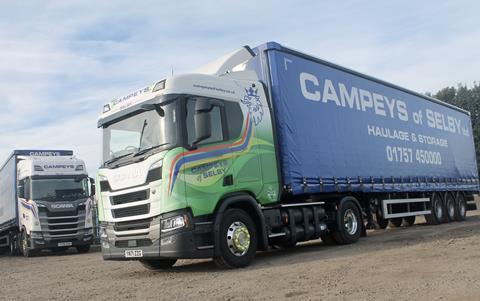 North Yorkshire family haulier Campeys of Selby has taken delivery of the first of 11 new compressed bio gas (CBG) powered tractor units.
The new Scania R410 4x2 tractor is driven by a 13-litre, CBG-powered engine which runs on renewable biomethane. It delivers an 85% reduction in CO2 emissions, helping Campeys to hit sustainability targets without compromising on performance.
The first unit will feature a new green livery to highlight its environmental credentials and stand out from the 100-strong fleet.
A further four Scania units, supplied by Scania Hull, will arrive next month followed by six Iveco S-Way 6x2 CBG tractors in 2022. Those additions will mean over 10% of Campeys' fleet will be run on CBG.
Campeys has adopted the new environmentally friendly fuel to help it improve the company's sustainability, significantly reduce CO2 emissions and meet targets in line with its ESG strategy.
The trucks will initially carry lightweight insulation-based products, allowing a very practical range for the vehicles, and will help Campeys play a significant role in ensuring its customers in turn meet their net carbon zero targets.
Harry Campey, transport manager, said: "Campeys is a forward-thinking and responsible business, and the adoption of this new technology will see us remain at the forefront of the sector as we work to reduce our environmental impact and help our customers meet their sustainability targets.
"We are starting the Scania vehicles off on lightweight contracts which allow the vehicles to have a good range, however, the refuelling infrastructure is quickly improving and we expect these vehicles to have nationwide capability by the end of the year.
"Sustainability is an important pillar of our business. We've always specified aero on trailers to reduce emissions and operate a shunt vehicle on HVO (hydrotreated vegetable oil) so this is the next significant step on our journey."