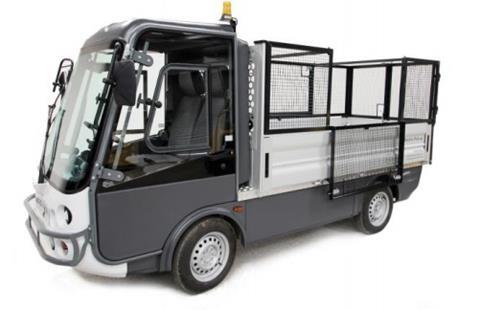 British manufacturer Bradshaw Electric Vehicles will be demonstrating to local authorities and logistics companies how its range of ride-on and pedestrian-controlled electric vehicles can benefit their urban operations.
At the inaugural Freight in the City Expo next week in London, it will be showcasing its new Road Going Electric Pick-up vehicle, with aluminium sides and cab-height cage body, which is able to carry up to 880kg.
Powered by a 72-volt AC controller unit, the new vehicle can run for approximately 40 miles on one charge, making it particularly suited for multiple pick-ups/drop-offs on city centre duties such as waste collection and recycling.
It has an individual driver's seat and an additional seat for one passenger, as well as twin-rear and side-opening doors to enable easy all-round access.
The new vehicle has recently been demonstrated across a number of UK local authorities, with "very positive feedback" from the trials, the company told freightinthecity.com.
Rob Ellis, corporate transport manager, City Of London, said following his trial of the vehicle, he recorded the following benefits:
The vehicle is very user friendly;
Good mileage from each charge;
Excellent all round vision;
Easy read gauges and dashboard;
Excellent build quality.
He added: "Overall the drivers/users of the Bradshaw vehicle found it easy to use and comfortable to drive. That usage made the charge capacity last longer than most applications. The load capacity was very good and the options for body build are apparently limitless. I would have no hesitation in investigating the Bradshaw further as a replacement vehicle. In regard to being environmentally and user friendly with low maintenance and running costs it ticks all the boxes."
Bradshaw, which is celebrating its 40th anniversary this year, produces an extensive range of zero-emission electric vehicles, including tow tractors, load carriers, utility vehicles and personnel carriers. These are already used across the UK in several different sectors, including industrial waste and recycling, hospital services, aviation and the oil and gas industry.
Company representatives will be on hand to talk to visitors at Freight in the City Expo - which takes place on Tuesday 27 October at London's Alexandra Palace - on Stand G2/H3. Make sure to join more than 750 of your industry peers at the must-attend urban logistics event of the year! Register for free today.