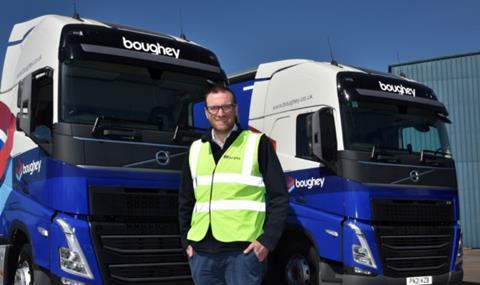 Cheshire-based Boughey Distribution's first Volvo new generation FH vehicles have arrived on site, heralding the roll-out of an £11m renewal of the firm's 127-strong fleet.
The delivery of the new FH 13-litre 460bhp Euro-6 model, which went into production this month, makes Boughey one of the first operators in the country to get the vehicles out on the road.
The vehicle's features include a 33-litre under-bunk fridge, a microwave fitted in an overhead locker and a flat-screen TV, located above the driver's door, which can be viewed from a swivel passenger seat.
This latest addition to the fleet is part of Boughey's £11m, five-year deal with Thomas Hardie Commercials of Middlewich for the supply of the new fleet.
The firm's fleet renewal programme will take two years to complete with the first 25 vehicles being delivered to Boughey by the end of May.
Read more
A further 48 vehicles will be supplied by the end of this year.
Boughey, which provides warehousing and distribution services to the food industry and has 900,000sq ft of warehousing, last ran Volvo vehicles in 2010. The company's current fleet is with Mercedes.
Transport operations director, Neil Trotter (pictured) said: "The specification and the performance of the new trucks is very impressive and there is much anticipation about getting the new vehicles operational.
"We are very fortunate to be in a position to be able to renew our fleet every five years and we have the in-house expertise to co-ordinate a detailed appraisal of the best vehicles on the market in terms of driver safety and comfort, on-the-road performance and maintenance support over the period of the contract.
"Following meticulous scrutiny of the latest vehicles, the new Volvo model ticked all the boxes for us."
As part of the renewal, Boughey is also increasing its fleet size by a further 10 vehicles with the company currently running a recruitment campaign to attract new drivers. The company, which is based in Nantwich, employs 600 staff.