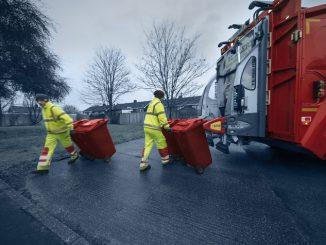 Biffa said it was doing everything it could to prevent strike action among HGV drivers on an outsourced refuse contract in Merseyside.
Around 200 workers employed by the company in Wirral are due to commence industrial action next week in a dispute over pay.
The Unite union claimed HGV drivers were paid just £11.95 an hour and they wanted a 15% increase to "reset" their wages and tackle the cost of living crisis.
It described Biffa as "a hugely wealthy company" and said it would not tolerate low pay any longer.
Strike action will begin on Monday 5 December and end on 10 December, but further dates will be added if the dispute is not resolved.
Unite regional officer Kenny Rowe said: "The strike action will inevitably cause huge disruption to the residents of Wirral but this dispute is entirely of Biffa's and the council's own making.
"Biffa has had every opportunity to make a fair pay offer and end low pay but it has declined to do so.
"Biffa and Wirral council need to wake up, get round the negotiating table and make a pay offer which meets workers' expectations."
However, Biffa released a statement saying it was trying to settle the dispute: "We have offered our employees an above-inflation pay offer," said a spokesman.
"We are doing everything we can to try and avoid a strike and are meeting with ACAS and the trade union today to continue talks."