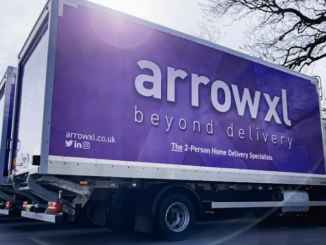 Two-person delivery and installation specialist ArrowXL has returned to the black after two years of losses, boosted by soaring online demand for garden, home office and gym equipment and a major shift to e-commerce during the Covid-19 pandemic lockdowns.
Reporting its results for the 53-week period to 30 June 2021, the company, which is part of the Logistics Group and a sister firm to Yodel, revealed that its revenue rose in the period to £114.9m (2020: £90.3m). Pre-tax profit also surged to £1.9m, up from a loss of £465,000 in 2020, whilst EBITDA leapt to £13.3m, up from £8.7m in the previous year.
ArrowXL has its headquarters in Wigan and specialises in warehousing, delivering and installing white goods and furniture, largely for retail clients.
In its strategic report to the results, the company said that the business had made a "significant improvement" across all metrics during the year and maintained excellent service levels, evidenced by its 4.7 score out of a total of five on Trustpilot.
It added that its financial performance was "significantly" ahead of expectations in the period, with the pandemic driving "a step change in shopping volumes".
Read more
The company said it benefitted in particular from increased volumes in garden, home office and gym products and strong trading throughout the lockdown periods, as numerous firms moved volumes to online sales channels.
The report notes that growth was achieved despite a number of challenges, which included a halt to in-house installation and assembly services due to Covid-19 restrictions, related staff absences and the national shortage of drivers.
Whilst the company benefitted from Covid-19 related government grants during the year, the report said the full amount of £249,000 has been paid back during the current financial year with no government support taken by the company since.
Looking ahead, ArrowXL said this year's performance continues to be positive but gave a cautionary nod to interest rate increases, the Ukraine War, fuel price rises and inflationary pressures on wages fuel and utilities.
Despite these headwinds the company said the home delivery market is continuing to show strong volume growth this year, with ArrowXL seeing a "significant" increase in new clients driven by the shift to online shopping and strong client retention.
It added: "The directors are confident that ArrowXL will continue to be profitable on an EBITDA basis in the year ending June 2022."