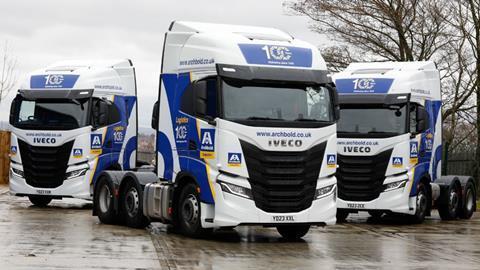 A total of 12 new Iveco S-Way 490s have joined Archbold Logistics fleet of 150 trucks and vans.
The new arrivals follow on from the delivery of two Iveco S-Way 460 models a few years ago which impressed due to their performance and the service received by Northern Commercials Brighthouse in West Yorkshire.
The purchase supports Archbold Logistics' growing contract logistics arm, which sees customers benefiting from a fleet operation without having to bear the full cost of a dedicated fleet themselves.
Archbold Logistics MD, Alan Maher, said: "We trialled the vehicle last year and it performed excellently. The drivers have been really positive about these Ivecos and have reported good fuel economy."
Read more
The 12 Archbold Iveco trucks are expected to cover 140,000km each year, and will be covered by a five-year Iveco Elements repair and maintenance package.
Maher added: "We are delighted so far with the new Iveco trucks. They are performing well for us in a real-world environment and we have been particularly impressed with Iveco's dealers support, which provides the excellent back up service that we require."
As well as the 490hp engines, the new trucks wear Archbold's signature colours, and have been specified with a refrigerator and touchscreen infotainment system.