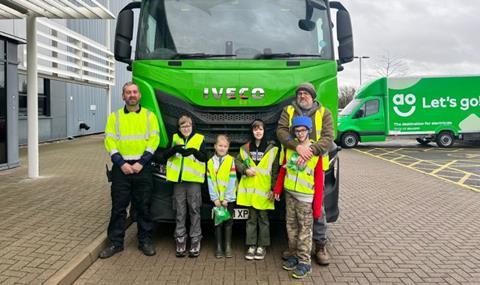 AO fulfilled a Gloucestershire boy's dream and invited him and his family to its logistics hub for his 12th birthday after learning he was a huge fan of the online retailer's green vans.
Fenn, who has a rare form of complex intractable epilepsy, had always wanted to see the green delivery fleet up close so his mum Sally reached out to AO, explaining his fascination with the vehicles.
In response, AO invited the birthday boy, his parents and three brothers down for a day out at their logistics operation in Crewe, with an opportunity to check out the different vans and experience the warehouse in action.
The day began with a chance to explore the cab of an articulated truck as well as a smaller 3.5-tonne van.
Fenn (pictured wearing blue hat) and his brothers then went for a spin around the AO site, thanks to driver Adam, followed by a tour of the 360,000 sq ft Alpha warehouse, where appliances are picked and loaded before delivery.
All the boys, aged seven, 10, 12 and 14 received a gift bag full of green goodies, including their own Christmas jumpers and a toy van to take home.
Sally said: "As a huge fan of AO vans, to be able to go inside one and have a ride was a dream come true.
"Seeing behind the scenes in the warehouse was a bonus which was not only interesting but educational. The whole team were so welcoming and accommodating of Fenn's needs and made it a magical experience that he will never forget."
Lynne Wood, director of service delivery at AO Logistics, said: "When we heard about Fenn and his love for our vans, we knew we had to do something special to celebrate his big day."