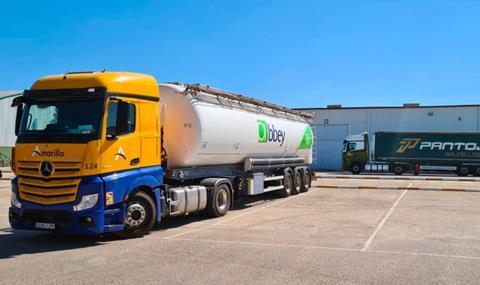 Abbey Logistics has demonstrated that alliances with European partners are still achievable in a post-Brexit world by collaborating with Spanish bulk powder road tanker business Cisternas Amarillo.
The partnership has been set up to provide the continuous movement of customers' products between the UK and Spain and give customers a faster, more cost-effective transport solution.
Abbey and Amarillo, part of the logistics group Pantoja Grupo Logistico, will maximise their fleet capabilities to provide a reliable flow of feedstock ingredients between the two countries.
Read more
Abbey said empty miles would be minimised by reloading tanks for return journeys.
Paul Laverick, head of Abbey's powder division, said: "This new partnership further demonstrates Abbey's unique ability to support road tanker companies in Europe thanks to our scale and network capability in the UK.
"Amarillo is highly regarded for its skills and experience in bulk dry food grade products and we are delighted to begin working together as we maximise the vast experience our combined businesses have for the benefit of our customers."