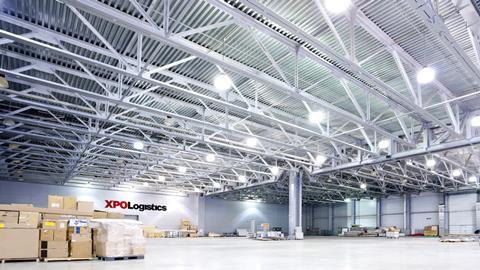 XPO Logistics is making significant cuts to its UK and Ireland operational emissions by using LED systems at its sites.
The company now uses LED systems in 76% of its network sites, and all new sites are equipped with smart controls to realise further energy savings.
Light and motion sensors automatically dim the LED lighting when natural light is sufficient or workspaces are not in use.
For the first eight months of 2022, sites that XPO converted to LED delivered a 75% reduction in lighting energy cost and a 57% reduction in energy usage, compared with the same period in 2021.
Read more
The company said that the savings have allowed the company to recover its investments in LED lighting in 28 months, on average.
XPO Logistics is also ramping up its adoption of HVO biofuels. Dan Myers, XPO Logistics UK and Ireland MD of transport, said: "The extreme summer temperatures this year have demonstrated the importance of moving sustainability actions forwards in our industry.
"We're now at 100% tier-1 renewable energy for all our sites, and we expect that 100% of the sites will be converted to LED lighting by the end of this year.
"We're also adopting HVO biofuel more rapidly, and we're working on power microgeneration and reductions in raw materials. We know that it's not just the size of our commitment, but also the speed of implementation that matters."