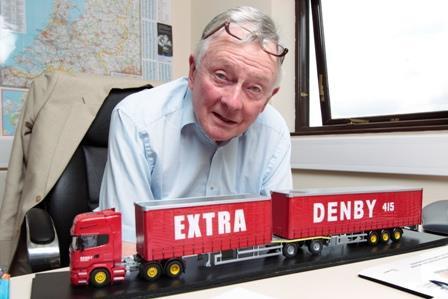 DfT officials have been accused of ignoring ministers' wishes in a move likened to a scene from TV series 'Yes Minister' after the department shelved plans this week for a trial of 25-metre articulated trucks whilst it carries out a safety review of the vehicle.
The decision brings to an abrupt halt plans mapped out by transport minister Baroness Vere and Denby Transport chairman Dick Denby, pictured, for a Section 44 permit to be issued to enable Denby Transport's 25.25m B-Double Eco Link to take to the road from 1 March as a demonstrator ahead of a wider trial of up to 3,000 trucks.
The decision comes despite growing support for a trial from hauliers including Eddie Stobart Logistics, Stiller Warehousing and Distribution and TP Niven.
The DfT's plans to review the vehicle ahead of any trial were revealed this week in letters to Denby and fellow lobbyist Hazcomp MD Kevin Buck.
Philip Martin, DfT head of freight policy, wrote: "Our ministers appreciate that you have been seeking permission to use your B Double on UK roads for a number of years, and are encouraged that there is interest from other operators.
"There are a significant number of issues, including road user safety, that need to be reflected upon before the department can move to issue a Section 44 Permit for the trial of these vehicles.
"These stakeholders will play a vital role in informing the next stages of this process. The Transport Secretary has asked officials to begin work on consideration of the feasibility, safety issues (including manoeuvrability, field of view, braking, stability and severity of impact) and resource implications of a significant trial involving stakeholders and technical assessments.
"This is a necessary step if a trial is to be useful. This will inform a decision on whether to progress to a trial of 25 metre vehicles and the duration and requirements any such trial would involve. Until these issues have been given due consideration, the department will not be issuing Section 44 permits for 25 metre vehicles."
Denby Transport chairman Dick Denby questioned the motives behind the DfT review. He told MT: "It is strange ministers have repeatedly asked for a way forward but officials say: 'No, there is not one'."
"Secretary of state Baroness Vere is known to be inclined to move forward, yet officials block the Section 44 permit needed to demonstrate the prototype to interested parties. Why? That is what section 44 is there for – that is exactly why - it says so.
"One wonders if DfT officials and ministers are on the same wavelength. Baroness Vere indicated an inclination to allow a trial of 3,000 60-tonne B-Doubles if we could show adequate demand.
"Operators keen to get started including Eddie Stobart Logistics in the North West and Stiller Warehousing and Distribution the North East and Jim Niven of Niven Transport in Dumfries and Galloway. There will be many more when they are allowed to see the vehicle.
"We get the impression that ministers and officials take opposite views. If so this is a strange state of government. Who governs? Westminster or Whitehall?"
Kevin Buck said the need for a safety review was a red herring, pointing to previous extensive research into the vehicles' safety and empirical data from the vehicles' long term use on Europe's roads.
He questioned why the DfT refused to grant Denby Transport a Section 44 permit when "it is within their gift to do so".
Buck also raised concerns about how long the safety review will run. Referring to "the spirit of Sir Humphrey" - the civil service chief in 'Yes Minister' – he said he will be seeking assurances from transport secretary Grant Shapps MP and Baroness Vere that the issue is not kicked into the long grass and that the review is "expedited as quickly as possible".
DfT has yet to respond to a request for comment.