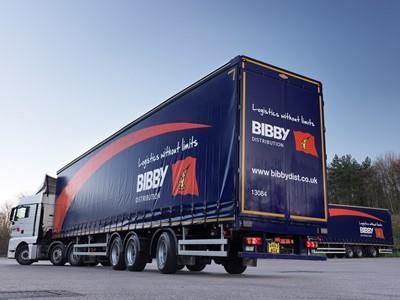 Haulier support for a trial of 25 metre artics on UK roads is gathering momentum, but more operators need to voice their support if the government is to give it the green light, Kevin Buck, transport consultant and MD of Hazcomp, warned this week.
The call follows news last month that Denby Transport has been given the green light to use its Eco-Link B Double road train as a demonstrator, ahead of a wider trial.
Buck, along with Denby Transport chairman Dick Denby, are in discussions with the DfT about the trial. Buck said this week they are pleased with the response so far but called for more hauliers to throw their hat in the ring to ensure the DfT gives the trial the go-ahead.
Buck said: "I am in contact with both Baroness Vere and Grant Shapps' office regarding this matter, but one key aspect that remains a point of discussion at the moment, is the support from the UK haulage industry itself. It is therefore essential that as many hauliers as possible make their interest and representation known about wishing to trial or adopt these vehicles."
A broad range of logistics firms operating in a variety of sectors have already voiced support for the trial including FreshLinc, Metcalfe Farms, White Logistics and Storage, Reynolds Logistics and Urban Transport London.
In addition, a survey requested by the DfT as evidence of industry appetite for the vehicle has revealed significant support, with 80% of respondents stating their intention to adopt it. The survey targeted the 3,000 firms on the DfT's longer semi-trailer trial.
Buck told motortransport.co.uk: "I have been very encouraged by the responses from operators over recent months. Two significant statistics are emerging from the independent data being gathered.
"The first is that initial adoption of around 12% of a haulier's trailer fleet for these vehicles falls right in the Goldilocks zone of initial forecasts of between 10% to 15% adoption.
Read more
"The second statistic of equal importance is that nearly all would adopt the 25-meter 60-tonne vehicles as well as and not instead of longer-semi trailers.
"This second point would have been of some consideration to the DfT, who may see that these larger vehicles could have detracted interest away from the LST trial.
"The current data from respondents who currently operate LSTs does not support that in any meaningful way though.
"When you think about it, as an operator, if you are offered two opportunities that provide increased operational efficiency, safety and cargo capacity, whilst reducing your operational costs and environmental emissions but in different way, why would you pick only one?
"As with all logistics operations, operators will maximise the opportunities both of these provide, within their operations."
Tom Stracey, MD of White Logistics and Storage, called for a trial this week.
He said: "These 60-tonne combinations clearly present a new dimension with their second trailer but we are confident this can be managed and they will prove beneficial."
Andrew Reynolds, Reynolds Logistics chief executive is also backing a trial. He said: "In our industry sector we always operate a maximum weight to ensure we carry as much product as possible, therefore the trucks offer benefits that longer trailers do not offer our industry sector.
"By operating these trucks we can reduce CO2 emissions per tonne of product moved by more than 15% and reduce the number of truck movements on our roads reducing congestion.
Rob Bates, MD Urban Transport London added: "With regular runs from London to the north and Scotland and demands for part and full loads, these vehicles are a no brainer for us. Two trucks doing the work of three means improved operational efficiency and cost reduction with environmental emissions and safety benefits. What's the hold up?"