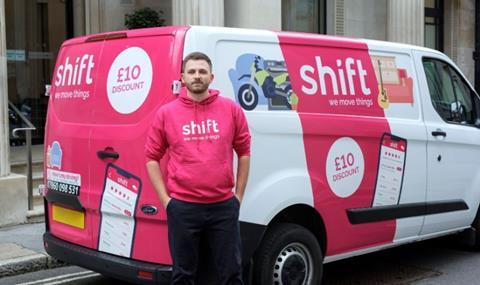 Shift, which offers on-demand delivery services using independent drivers, has bought Tuffnells out of administration.
Announcing the deal, the tech-based firm, which is led by 29 year old founder and entrepreneur Jacob Corlett, said it is looking at re-opening some of Tuffnells' 33 depots and employing some of its former staff.
Shift, which is based in London and counts both Ikea and Homebase among its clients, has acquired the company via an asset purchase of its IP, brand and selected assets, for an undisclosed amount.
The company operates a tech-based platform, providing customers on-demand delivery services via smart algorithms that filter through the pre-existing routes of registered independent truck and van drivers and fleets of vehicles, locating drivers best suited to take on the job.
This is the company's fourth UK acquisition, since launch, having bought Courier Direct, JLF Moving Solutions and tech firm Techlogico in 2021, aided by a funding round which raised £10m to fuel both acquisitive and organic growth. In April Shift also bought German firm Movinga, a European home-move and relocation marketplace.
Corlett said: "We are delighted to announce today that we have acquired Tuffnells out of administration and we are in the process of incorporating the business into our tech-based logistics platform.
"Tuffnells is one of the UK's most recognisable logistics companies, which provides delivery services to over 4,000 businesses across the UK and this acquisition will significantly increase our logistics coverage across the country.
Read more
"The acquisition supports our vision for Shift's tech-driven logistics platform to disrupt both consumer and business logistics, through cutting edge AI driven routing decisions and driver management efficiency.
"We are also currently in dialogue with relevant parties to enable us to reopen some depots and provide re-employment opportunities."
The purchase follows Tuffnells being placed into administration on 12 June 2023 with the loss of more than 2,000 jobs, after being hit by the impact of Covid, spiralling inflation, and a fiercely competitive market.
Rick Harrison and Howard Smith from Interpath Advisory were appointed joint administrators to Tuffnells.
Headquartered in Sheffield and with 33 depots across the UK, privately-owned Tuffnells specialised in the distribution of mixed freight and handling items of irregular dimension and weight (IDW) throughout the UK. For the year ending 31 December 2021, Tuffnells generated revenue of £178.1m, with an operating profit of £2.3m, 24% higher than the previous year.
Richard Harrison, MD at Interpath Advisory and joint administrator, said: "We are pleased to have concluded this transaction which secures the future of one of the UK's longest standing and well-recognised courier brands, as well helping to facilitate an opportunity for the purchaser to generate a number of jobs.
"I would like to take this opportunity to thank all the employees and other stakeholders who have supported us throughout the administration process to date."
An Interpath Advisory spokeswoman told MT that Shift has not bought the whole business out of administration, adding that "the administrators continue to explore options for the remaining assets, including for example, the leases for the depots."