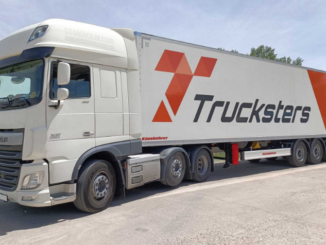 Trucksters, a relay-based transport service which aims to cut drivers hours, speed up delivery times and reduce transport costs, has launched in the UK.
The Spanish company operates an international relay transport service which divides routes up into sections, allowing drivers to drive shorter routes in relay.
At each relay point the cargo is exchanged and picked up by another driver, who will carry the goods to its following relay exchange point or destination.
The company claims that the system improves drivers' quality of life and delivers a more cost-efficient transportation service, which it says is up to twice as fast as traditional transport and up to four times safer.
The newly launched UK corridor is Trucksters' fourth corridor to date. Its other three current corridors include: Central-Northern Spain to Benelux/West Germany, the Spanish Levante to Benelux and West Germany and the Central and Eastern Spain to Poland. Trucksters is also planning to launch a further eight corridors by the end of 2023.
The Trucksters transport system is currently used by 600 clients including Kimberly Clark, the DPD Group, Amazon or Seur.
Read more
The company has also announced the appointment of new driver experience manager Alberto Agulló whose brief to lead the company's strategic plan to provide its drivers with a more sustainable work and life balance and spend more quality time with their families.
He will oversee a team of six that will also be focusing on improving the rest areas for the drivers.
Agulló has more than five years of international experience in supply chain operations. He has worked in multinational companies such as Privalia, as global operations controller, or in Havaianas, acting as the manager of two distribution centres in Europe and the head of operations.
Commenting on his new post, Agulló said: "Joining Trucksters, provides me with the opportunity to be part of a project which is revolutionising the transport sector, a project which prioritize the livelihood of drivers and aims to improve their lives.
"We are going to work with everything we have to improve the living conditions of drivers, not only by allowing them to sleep more at home, but with many more initiatives that we are starting to develop".
Gabor Balogh, co-founder of the Spanish company, added: "It is a very critical moment in the industry, where the lack of drivers, the generational change, the price of fuel and the constant increase in the movement of goods worldwide is generating a furious storm, and we have to react.
"At Trucksters we put all our focus on the drivers, on improving their lives and those of their families with a variety of initiatives. We are going to make this profession attractive and desired by society again, and to achieve this we needed Alberto, who will be leading the initiative."