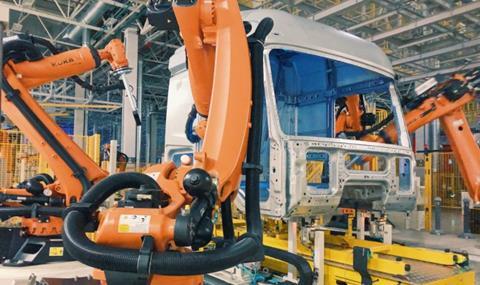 The Russian invasion and war in Ukraine have brought some fairly swift economic retaliation from the UK, USA and EU. Russian banks and companies have been sanctioned, as has a long list of individuals.
The list of companies includes the Russian truck maker Kamaz, which is now subject to a list of EU sanctions. Kamaz was involved in a joint venture with Daimler Trucks, but the company has now discontinued all business operations in Russia.
"I would stress that our co-operation with Kamaz is and always was purely civilian in nature and was only concluded with this focus", a spokesman for Daimler Truck told MT. "Daimler Truck supplies KAMAZ with civilian truck components exclusively and in the joint venture, only non-military Mercedes-Benz trucks and cabs were manufactured for Kamaz. It goes without saying that we have always strictly complied with all applicable export control and sanction regulations."
The spokesman continued, "We are deeply shocked by the military violence in Ukraine and very concerned about the threats to peace and stability in Europe. We clearly stand for peaceful global cooperation and categorically reject any form of military force. Reflecting the geopolitical situation further intensifying, we have decided to immediately suspend all our business activities in Russia until further notice. We are monitoring the situation very closely and will continuously review our decision. We will obviously comply with all measures taken by the German government and the EU."
Truck manufacturers have worked hard over many years to build up business in Russia and the current situation is undoubtedly causing problems. A statement from MAN lays out the company's position: "MAN Truck & Bus is stopping the delivery and supply of trucks and after-sales components to Russia and Belarus with immediate effect until further notice, in light of the current sanctions situation. Local sales of trucks in Russia have also been discontinued. Production in St. Petersburg, which employs around 70 people, has been ramped down."
In addition, the war has caused supply bottlenecks, resulting in production stoppages at MAN. This is affecting components plants in Nuremberg and Salzgitter.
Volkswagen Commercial Vehicles is also being affected, "This is accompanied by restrictions in the creation and scheduling of orders and delays in vehicle production, delivery and the supply of original parts. This has a direct impact on the availability of the MAN TGE," the MAN statement continues.
"MAN Truck & Bus is doing everything in its power to keep delays in delivery times as short as possible. Due to the volatile situation however, short-term adjustments to the production programme are possible at any time."
DAF is not involved in local manufacture or joint ventures in Russia but has operated one sales unit and 30 dealer locations in the country. In response to US and EU sanctions, a spokesman told MT, "We have therefore stopped the deliveries of our trucks and parts to Russia for an indefinite period. Orders for the coming months will be cancelled and postponed."
Volvo Group operates a truck plant at Kaluga some 93 miles southwest of Moscow producing both Volvo and Renault Trucks. Like its competitors, production has ceased.
"Due to the military conflict in Ukraine, the situation in the region and the developing sanctions and export control regulations, the Volvo Group was forced to immediately bring all its operations in Russia to a temporary halt and take further measures to comply with applicable regulations. Such measures have included a temporary halt of all sales, service and parts distribution activities in Russia as well as a halt of production of trucks in the Kaluga plant, effective immediately", a spokesperson for Volvo Trucks told MT.
The company has three wholly owned workshops in Russia as well as a further 78 with private partners. Volvo sold 5,700 trucks in Russia last year and has 346 employees there out of a total 1,337 employed by the Volvo Group. Russian-built Volvo trucks are not sold in the UK.
The Volvo Trucks workshops are dual-branded with Renault Trucks, which sold 899 trucks in Russia last year. A Renault Trucks spokesperson told MT, "The Volvo Group has temporarily halted its operations in Russia and taken further measures to comply with applicable regulations. Such measures include a temporary halt of all sales activities in Russia as well as a halt of production of trucks in its Kaluga plant effective immediately."
Tyre maker Bridgestone has also stopped its manufacturing in Russia and exports to the country. With no end to the conflict in sight, it is difficult to predict when sanctions will be lifted and production and sales might resume in Russia.