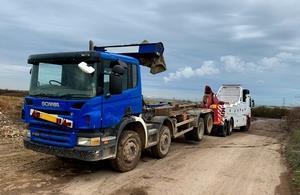 An eight-wheel tipper truck has been crushed by the Environment Agency (EA) under new powers to combat fly tipping.
The vehicle is believed to belong to an organised crime group operating in the South East and was discovered near Iwade, outside Sittingbourne in Kent, during a waste crime investigation.
The truck was seen at a number of waste sites across the county and is linked to illegal dumping of waste at commercial properties.
It was crushed under EA supervision, by a licensed scrap yard as part of an operation into large scale illegal dumping of commercial waste.
Alan Cansdale, EA environment manager, said: "In cases like this, where the actions of individuals threaten to undermine legitimate businesses, we have no hesitation in using all powers open to us, including crushing their vehicles."
The owners of the tipper truck had until 18 March to claim to have the vehicles returned to them by the Environment Agency.
No one came forward.