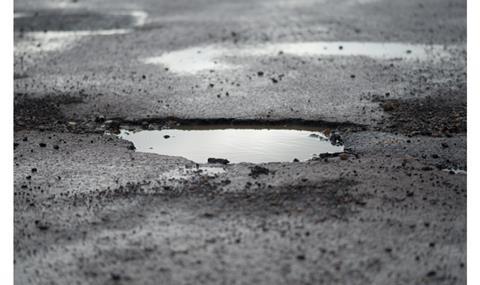 The Transport Committee has called on the DfT to commit to a five-year funding model to tackle the chronic issue of potholes across the local road network in England.
Describing the current estimated £9bn backlog as a "plague of potholes" the select committee said today (1 July) that the current "make do and mend" approach employed by councils also offered poor value for money.
The chairwoman of the Transport Committee, Lilian Greenwood MP, said: "Cash-strapped councils are raiding their highways and transport budgets to fund core services. This is not an isolated example – it's been a common thread in our other recent inquiries on buses and active travel.
"Now is the time for the department to propose a front-loaded, long-term funding settlement to the Treasury as part of the forthcoming Spending Review.
Read more
"Almost every journey begins and ends on local roads: the DfT must work with the public and local authorities to make them safe."
The committee's report, "Local roads funding and maintenance: filling the gap", states that local government funding has fallen by a quarter (25%) since 2010 and with no ring-fencing for local roads funding, councils have diverted revenue away from maintenance.
While funding is identified as the critical issue, the report also calls for the DfT to record and supply improved data about the state of local roads so councils can act more effectively.
It also wants to see improved practice in regards road maintenance, and the department taking a lead in fostering innovation to create new technology and ways of working within the space.
Christopher Snelling, head of UK policy at the FTA, said it supported the call for a five-year pothole fund.
"Taxes on UK road transport are the highest in Europe, yet our roads continue to be underfunded; HGVs alone pay enough tax to pay for more than 90% of the current amount spent on road maintenance in the UK.
"Large potholes are an all too common sight – costing businesses in the logistics industry millions of pounds a year in vehicle repair and hire replacement. Potholes are dangerous to cyclists as well as damaging to vehicles; it is ridiculous that we still have this problem in today's Britain," he said.
Image: Shutterstock