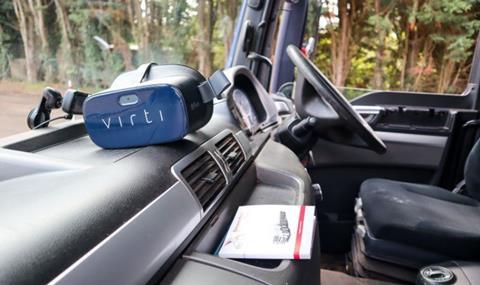 HGV driver candidates are now being offered virtual reality (VR) technology to help them pass their test and get behind the wheel quicker.
Training firm Easy As HGV said it was improving driver training with the use of "fully immersive VR simulations" in order for prospective drivers to learn and practice skills such as walkaround pre-drive safety checks, coupling and uncoupling and carrying out reversing manoeuvres.
It said the simulations had been designed to make it easier to learn core skills and research had shown that performance can be increased by up to 230%.
Easy As HGV added that its hope was the technology would help drivers improve their C+E test performance by 25%.
The VR simulations can be accessed anywhere using headsets, or on desktop or mobile devices and they have been designed to complement its four-day intensive training course.
Tom McGhie, Easy As HGV MD, said: "We desperately need to train up more drivers - and fast.
"We're being inundated with enquiries and people are incredibly keen to learn.
"This VR training is going to be invaluable as it will enable candidates to revise and practice the skills they learn in our training course before they take their test.
"It's far more effective than having them read a textbook or watch a standard, non-interactive video.
McGhie added: "The feedback from candidates so far has been overwhelmingly positive and we look forward to rolling the new training materials out further and seeing the impact over the coming weeks."
Dr Alex Young, chief executive and founder of tech firm Virti, which has designed the simulations, said there was no better way to embed learning and build confidence than offering people repeated opportunities to immerse themselves in the training: "Candidates will be able to access the new training tools using VR headsets or their mobile device, meaning they can easily access training sessions remotely and on the go," he said.