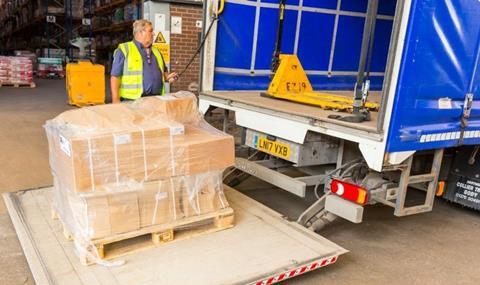 The Pallet Network (TPN) is to charge for tail-lift deliveries in response to the recently published safety guidance on pallet weights.
The surcharge will be applied on all tail-lift deliveries from 1 August 2021, which TPN said was aimed at protecting driver safety, service levels and profitability.
The Sutton Coldfield-based network, which has a 119 members and 130 depots, claims to be the first pallet network to add a surcharge on tail-lift deliveries.
It said the move is in recognition of the extra costs tail-lift deliveries incur and the levels of investment required under the new safety regulations HSE-backed RHA Tail-Lift and Pallet Truck Guidance Document which was published last month.
The new guidance makes clear that drivers must carry out a dynamic risk assessment for residential tail-lift deliveries at each point of delivery.
TPN MD Mark Kendall said: "The UK pallet networks are being asked to do more tail-lift deliveries, particularly to residential addresses, than ever before but the sector has never addressed the price implications of this. Our commitment is to our partners' success in terms of service, safety and profitability and so it is incumbent upon us to take the lead."
TPN said the surcharge is designed to address the need for drivers to complete dynamic risk assessments at every site, as laid out in the guidance, as well as the need for extra investment in driver training and in the purchase of electric pump trucks to ensure safe deliveries.
Kendall said it is "essential to invest to improve the working conditions for drivers who are being asked to do increasingly difficult work".
He added: "Driver retention is a critical factor for our partners and we need to ensure that drivers are equipped with the best tools for the job.
Read more
"The sector as a whole has been unwilling to price tail-lift deliveries in a sustainable manner because they fear losing volume. However, TPN has always operated on the basis of quality, not volume.
"We believe customers will understand this change in pricing, and ensure that every tail-lift delivery is necessary and is to a suitable location.
"TPN is committed to service resilience and sustainable business and this is a necessary step in ensuring both," he added.
The addition of TPN's surcharge comes as residential deliveries continue to soar, driven by the increase in online shopping during the Covid-19 pandemic, with residential delivery volumes growing by 18% of pallet volume overall in 2020.
TPN said its levels of residential deliveries is less than the sector average but stressed that it is not only home deliveries which require tail-lifts.
"There is a danger of creating a false correlation between B2C and tail-lift deliveries. Any business without a formal and FLT-equipped delivery site often requires a tail-lift delivery," Kendall said.
Hazchem praised TPN's decision. Members of the chemical and ADR pallet network already apply a surcharge for its B2B tail-lift deliveries.
MD Robert Symes said: "This is a step in the right direction for the pallet network sector and something the industry as a whole will follow. We have a tail-lift surcharge at Hazchem. It recognizes the extra cost to our members in making tail lift deliveries and these costs will only increase as we all work to make these deliveries safer."
Geoff Hill, chairman of Rase Distribution, who has long campaigned for safer pallet deliveries, said: "This is very positive news and recognises that tail lift deliveries are a service of value which goes over and above the normal delivery profile. Residential deliveries are very expensive and more difficult than to commercial premises."
Paul Sanders, chairman of the Association of Pallet Networks, also hailed TPN's move. He said: "We welcome TPN's commitment to the tail-lift guidance and their support of their drivers in carrying out risk assessments in line with the new guidance."